Check out my Global TV Sunday Morning News Tech Talk segment today.
Microsoft's new Surface 3, is available now for pre-order. It's touted as the portable work and school successor to its very well received Surface Pro 3 which has impressive sales. Although Microsoft touts similar DNA to the Surface Pro 3, the Surface 3 has very little in common with its older sibling.
Check it out at the Microsoft Canada Store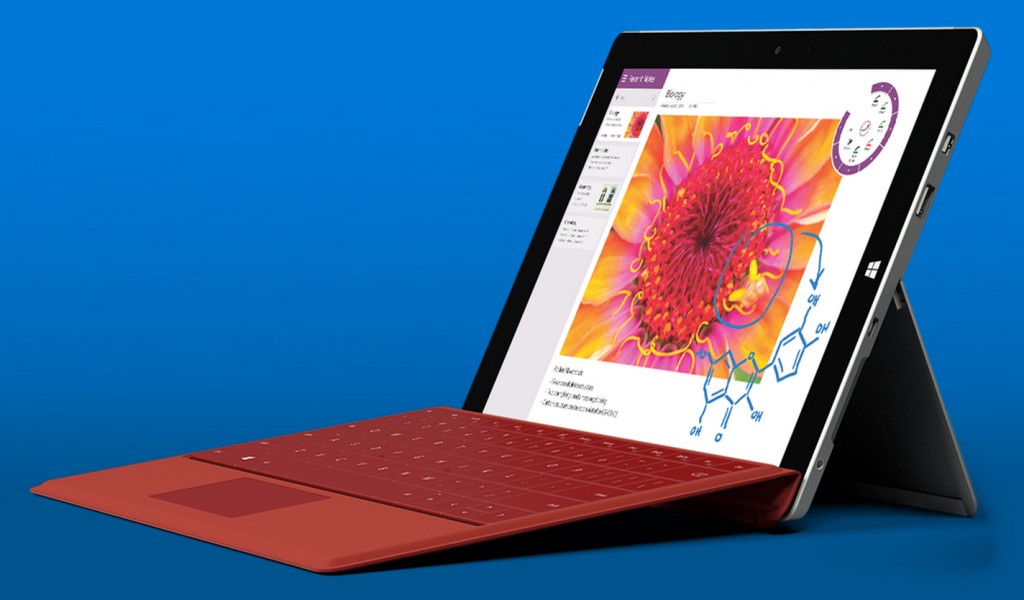 Here's what I like about it:
Perfect size for portability and long battery life. The docking station is a good idea as is an always connected 4G LTE model. The 3:2 aspect screen ratio on a 10.8 – inch screen is smart for documents and magazines. Keeping three positions for the kick stand is welcome as is the free one year trial of Microsoft Office 365 Personal. The free upgrade to the yet unreleased very excellent Windows 10, we all get in the first year.
The full-size USB 3.0 port, Mini DisplayPort, microSD card reader and Micro USB charging port are smart too.
Now the bad news:
The Surface 3 at $639 is too pricey to start with. Third party makers can easily beat that with better features and processors, not the Intel Atom the Surface 3 comes with and more than 2 GB RAM.  That doesn't include the optional Surface 3 Type Cover, $159.99 and full feature Surface Pen for $49.99.
Microsoft is riding on the success of its Surface Pro 3 which commands a hefty price but worth it.
I still can't see where the tablet version of Windows comes in. It's still an orphaned touch OS and the more it gets out of the way in the new Windows 10 OS, as it does, the better. That's not from me. I rarely run into raving Windows tablet users, still griping about the original Windows 8 and patched up Windows 8.1 with "that other screen view with big icons that comes out of nowhere."
Microsoft's idea of a universal OS in Windows 10 is a smart idea, insofar as having apps that run on your desktop laptop or Windows Phone. But the tablet part cannot stand up to iPads or Android Tablets. I think one of the wisest things the late Steve Jobs said was that tablets (iPads) and laptops have totally different uses.
Microsoft's challenge to be in every day consumer lives is making the software giant give a little "free" here and there.
Canadian students can get a free Office 365 Education for Students providing their district school board or individual school (from K-post-secondary institutions) has purchased Microsoft Office for use by its staff. Parents and students can check www.microsoft.ca/freeoffice for details. The software will work on multiple devices for each student and includes classroom collaboration. But not shared with four other users.
But if the students move to another school that uses the popular Google for Education with free forever Office-like tools, they will lose their special Office 365.
Microsoft hopes planting early free seeds to potential future customers of the future is a good idea. As an Office 365 user myself, it's difficult to break away for competitive free office software.
I must say, with all this free software, especially on phones, one gets spoiled and annoyed at having to pay companies like Microsoft for software. But there is a price for free software. You give up your privacy and your phone literally gets dragged from the additional goings on. Check out this eye opening recent research on what FREE phone software does to your phone.
Interestingly, unlike competitors, Microsoft's free Office Mobile App has minimal involvement with your smart phone. It only accesses information directly needed by you when using the app.
Would you pay a couple of bucks for phone software that just leaves you alone? For years Microsoft insiders have been telling me, the time will come when the option of paying a descent price for software with no ads or secret sharing of your phone user stats might get traction again.
I'm in!