---
At Adobe MAX 2015 in Los Angeles today, Adobe outlined its vision for Creative Cloud — a "connected creative canvas" where people create and share their work from anywhere.
Adobe dazzled some 7,000 attendees with new powerful mobile apps. It showed how cloud-based Adobe CreativeSync allows users to save and share their work, app settings, tools and more, between multiple devises as well as with co-workers. 
"The power to be creative is no longer for the few" said Adobe CEO Shantanu Narayan.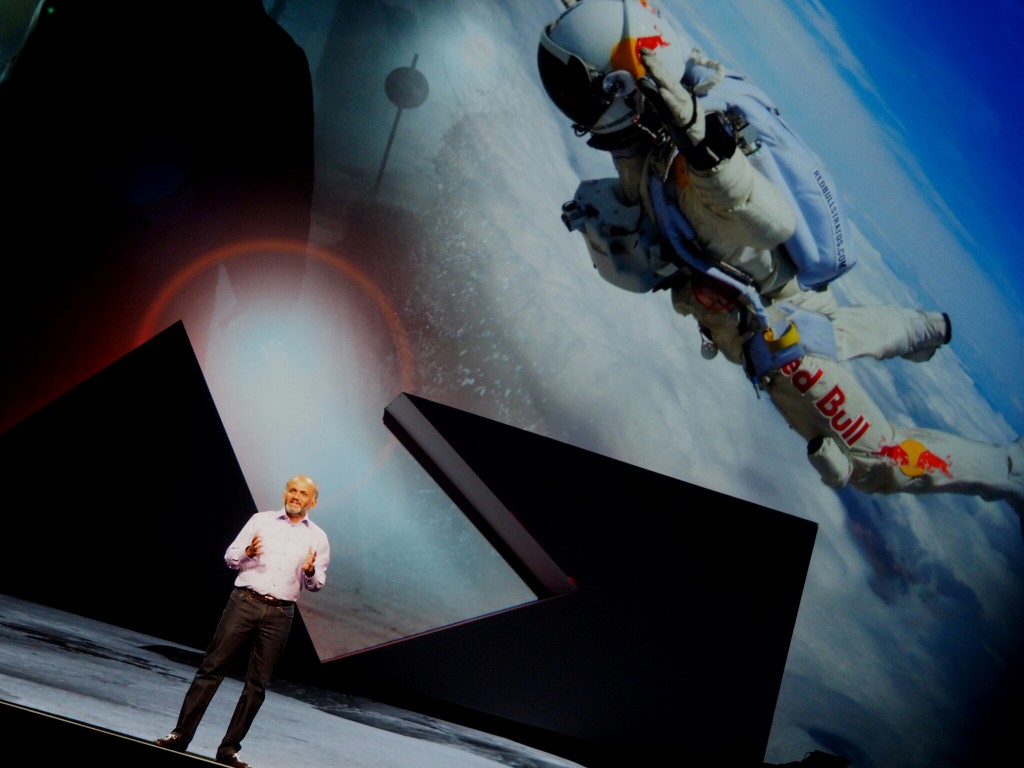 Adobe also said that videos would soon be added to the current Adobe Stock royalty free collection of high-quality photos and  illustrations. 
Adobe added more features on the current Creative Cloud suite which costs $49.99 USD a month, $19.99 for one app and $9.99 for a rich Photography package, see more below.
Here ia a list of new Adobe apps and features on current apps that was enthusiastically received by professional and enthusiast attendees.
-Adobe added powerful mobile editing apps. Photoshop Fix 
and Capture CC
, enabling quick retouching with healing brush and liquify and asset capture on the go. Available for iPhone and iPad with Android scheduled for a later release.

InDesign Touch Workspace-Touch capabilities are now across the Creative Cloud desktop applications including Photoshop CC, Illustrator CC and Premiere Pro CC. Thisvis welcome news for folks who are  using iPad and Windows tablets.
-Video content is coming soon to Adobe Stock, the company's royalty-free collection of high-quality photos, illustrations and graphics.
-Adobe Capture CC combines Adobe Brush, Adobe Shape, Adobe Color and Adobe Hue into a single and simple-to-use app.
-Adobe shipped updates to connected Creative Cloud mobile apps, including Photoshop Mix, Photoshop Sketch, Illustrator Draw, Comp CC and Premiere Clip.
-For InDesign CC and Illustrator CC, Adobe introduces new and updated Touch workspaces. This includes the Shaper tool, Live Shapes and
enhanced Smart Guides. InDesign CC now features new online publishing capabilities.
-Adobe Fuse CC (Preview) 3D character software is added to existing Creative Cloud membership plans. These 3D models can be synced across Creative
Cloud Libraries for use in Photoshop CC.
-Muse CC now has Web and UX Design, free-form responsive design to easily create websites that dynamically scale to any size screen, browser or device, without having to code or use restrictive templates. Smart!
-Adobe Stock can be accessed from within most Creative Cloud apps. A watermarked trial image can be used in projects and replaced by a fully licenced copy when a project is almost completed. Nice. In addition Adobe Stock is delivering new capabilities for businesses, offering pooled licenses at no extra cost to Creative Cloud team customers. Adobe Stock is also being made available for enterprise use, with additional support for license management, reporting tools, and unlimited usage of stock content in large print runs.
-Adobe Portfolio, creates simple and creative portfolio websites. Available soon, Portfolio comes free with any Adobe Creative Cloud plan, delivering layouts ideal for any creative field, from photography
to fashion. Creatives can customize their Portfolio sites, which support responsive web design to ensure content looks the same across all screen sizes. Portfolio sites can include a personalized URL, password-protection and high-impact Typekit fonts. Portfolio is built on Behance, the world's largest and most vibrant creative community, with over 5.6 million members. Users can sync Adobe Portfolio to their Behance Projects pages, ensuring even more opportunities to get their work discovered..
-Adobe also unveiled feature updates to its popular (especially photo enthusiasts) Creative Cloud Photography plan that includes Photoshop CC and Lightroom CC software across mobile and desktop, for $9.99 USD per month. It also updated Lightroom mobile with new capture capabilities and Dehaze functionality and added more layer support for Photoshop Mix.  Adobe Portfolio will also be added to Creative Cloud Photography giving this package a big bang for your buck. For more information go to www.Adobe.com
SURVEY FINDS CREATIVE CONTENT PROVIDERS UNDER PRESSURE
Adobe's "State of Content: Expectations on the Rise" report should not surprise.
An Adobe commissioned survey, released  at the annual Adobe Max conference in Las Angeles said demand is increasing for better quality digital content.
Content that is being seen on several size screen devices by more users has to meet higher standards in quality, authenticity and impact to make an impression, the survey revealed.
Smartphones are the most used devices by Millennials daily. 88 per cent of the some 2,000 consumers surveyed report multiscreen use over nearly three devices simultaneously. But 40 per cent find this deluge of information distracting.
The huge online flow of information is increasing the perception of accuracy, steering more folks to focus on entertainment value online.
More than one third of Millennials value entertainment over accuracy while more than 40 per cent don't fact check online information they share.
More than 60 per cent of consumers question whether a news article is biased, a photo has been altered or the arthur has been paid or invented to post a positive review.
More the 70 per cent trust content from a family member or friend more than celebrities or YouTubers.
Now this wasn't a problem when reading newspapers, was it!
There's more.
Consumers say they are likely to stop viewing content or switch devices:
-If the layout and imagery content is unattractive (73 per cent)
-If the content is too long (68 per cent)
-If the images won't load (85 per cent) or take to long to load (83 per cent)
The study calls this a wake-up call for digital content creators.
"The message from consumers is clear: the bar is higher for content creators than it has ever been" said Bryan Lamkin, senior vice president and general manager Digital Media, Adobe.