"A lot of stuff I am not terribly happy with, with what's going on…especially the body issues it creates for a lot of women."  Photoshop creator Thomas Knoll on digital picture manipulation
Happy 25th Photoshop! In a live Adobe hosted online media briefing this morning, the creator of Photoshop Thomas Knoll, took questions from us. He was totally candid, thankfully with minimum media training. Although supportive of Adobe's ever expanding cloud based Creative Cloud, Knoll expressed concerns about its abuse as a tool. He also gave us a glimpse of what the graphics industry was like back in 1987 when Knoll and his photographer brother John dabbled with a little imaging program they called Display.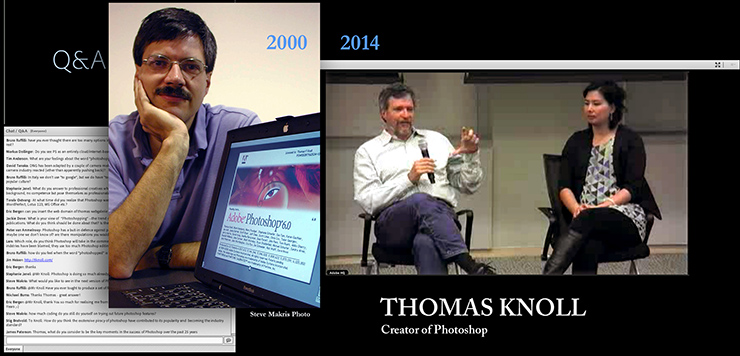 It's interesting to note that Knoll had his own camera in his teen years and was shown the ins and outs of darkrooms by his dad. He was frustrated not being able to get darker blacks or whiter whites on his prints. Later he dabbled with basic picture editing programs during his thesis work to the point where he never got his PhD. We can all thank him for that!
Knoll said that Display was designed as a pixel editor for the graphics industry to prepare images for printing in 1987. He considered other names for his program like Image Pro and Photo Lap, even PhotoShop through an acquaintance. After Adobe purchased the fledging program, according to Knoll, it changed the upper case S to a lower case, launching Photoshop in 1990 to a world hungry for better imaging editing solutions.
I interviewed Knoll 15 years ago, also an Adobe Fellow, in 2000 who was running Adobe 6 on his Mac Book. His biggest beef then was why Adobe was putting more emphasis on his all-powerful Photoshop being to handle web-size images when it was originally conceived to handle huge picture files for professionals and photo enthusiasts.
Remember, this was the early days of the Internet and Adobe envisioned being a big part of the online digital revolution. Fast forward to the Adobe Creative Cloud today which dominates the graphics and publishing industry.
Keeping low budget photographers in mind, Knoll was instrumental in Adobe's special Creative Cloud Photography offer for Photoshop and Lightroom plus mobile phone app for anyone for only $9.99 US a month with online benefits. That's two large fancy coffees a month! https://creative.adobe.com/plans/photography
In this morning's Q&A session Knoll shared how he still gets a kick out of "Photoshop" used as a globally known word. But he expressed reservations on how his beloved app becomes the centre of controversy whenever digital manipulation hits the web social scene.
"Photoshop is a tool and like any other tool, it can be abused," he said. "A lot of stuff I am not terribly happy with, with what's going on…especially the body issues it creates for a lot of women. I would appreciate it if people would back off on that," he added.
From my first conversation with Knoll 15 years ago to today's media Q&A, I can't help but think Knoll has no mean digital strain in his DNA. He is a non-destructive kind of guy and continues to work on new versions of Photoshop's pure RAW format which reads every bit of better cameras' pure digital picture information when the photo is taken.
You will understand Knoll better if you visit his site, http://tknoll.com and see his view of the world in a collection of extensive world photography. Pure photos, most taken in RAW format.
Visit the Photoshop 25th anniversary blog
Checkout my GlobalTV Tech Talk segments