Attention all artists!
Microsoft's ground-breaking Surface Studio Windows 10 desktop arrives in Canada on April 20 and will change the way you think and create digital art on one gorgeous high resolution 28-inch zero gravity screen.
It also introduces a new optional, must have, mouse-like device called the Dial adding to the included pressure sensitive Pen, mouse and keyboard.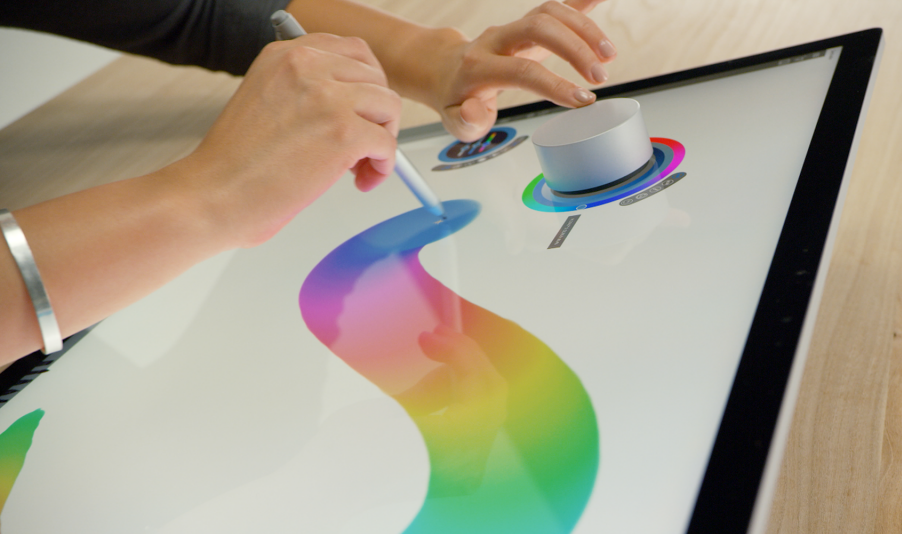 The PixelSense display (with impressive embedded speakers) rests on two swinging columns on top of a flat book-like base, powered by Intel's best Generation 6 iCore processors. Add support from big name graphics apps from Adobe and Sketchable and you have an enviable creativity tool designed to lure artists from all computing platforms, including Apple.
Why? Because when artists create visuals onscreen, their minds race at a pace beyond pencil and paper.
Take artist Tablloyd for example. He is one of the six Canadian artists who partnered with GelaSkins and Microsoft to create a series of stunning stick-on skins for Microsoft's perfectly matched flat Surface portable laptops.
"The Studio lets me multitask bringing me back to my roots – when I was creating as a child working with pen and paper. Now I have a digital piece of paper," said Tablloyd.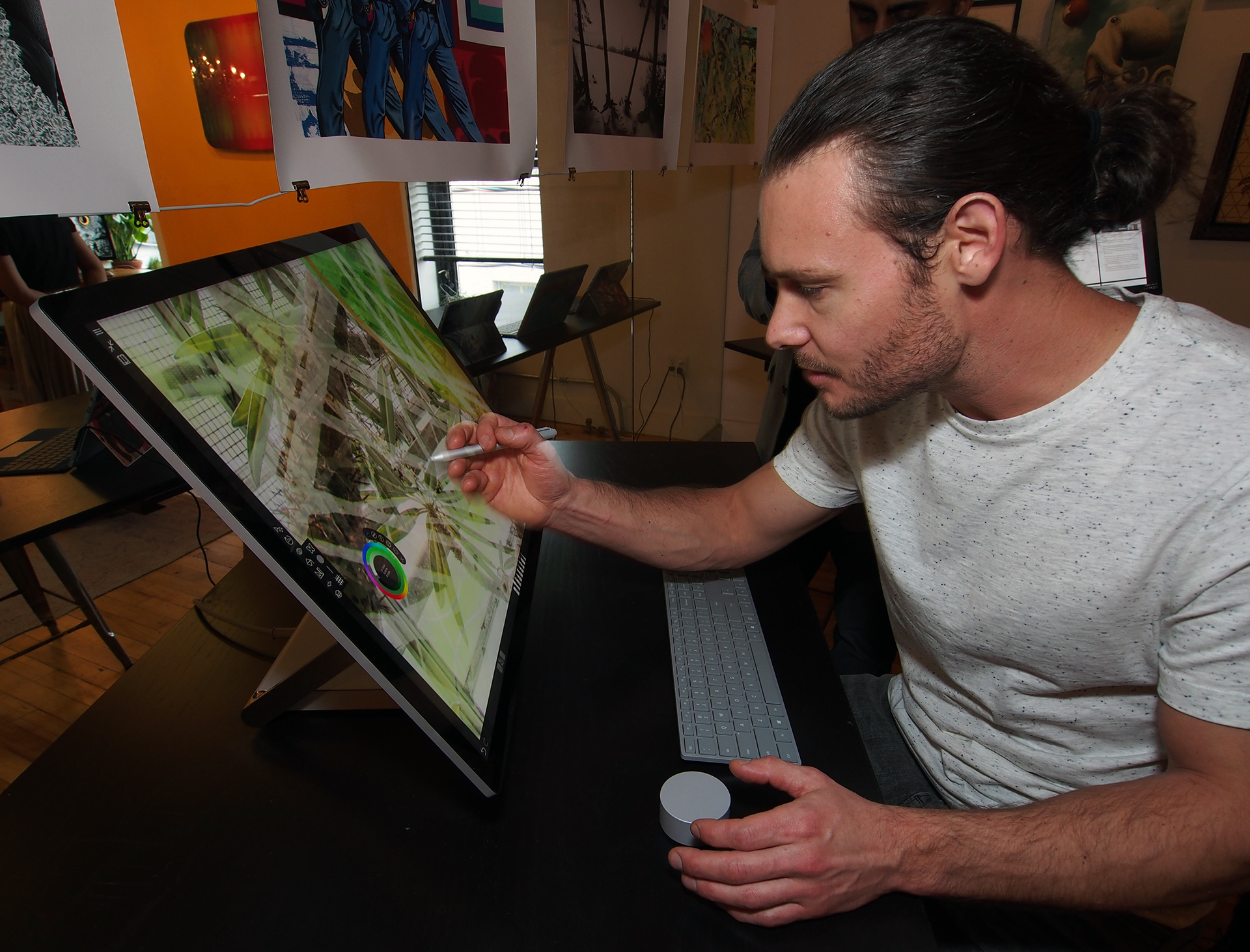 Working with the Studio Pen and new Dial, Tablloyd's screen burst with a lightshow of colours with a flick of wrist penmanship and radio tuning-like on the programable Dial. The Dial can rest on your desk showing an onscreen circular pallet of drawing and effect tools. Or it can be placed anywhere on the horizontally tilted Studio screen, creating the same circular tool collection onscreen.
What can you do with it that you couldn't before with the Dial?
Vary the intensity or perspective of a line you draw from a distance coming close to you in real time.
Spin the Dial for multipole undo's or re-does on a drawing project. Nice!
Change the colour of our Pen brush gradually by slowly turning the Dial (check out my You Tube Dial in action)
Tablloyd and the five other Windows 10 artists, Sam Shuter, Darshie Designs, Candice Kaye, SoTeeOh and Claire Desjardins showed off their work, also using more traditional Surface laptops and tablets at the Toronto-based GelaSkin studios. Check out their web site here
You couldn't pick a more diverse group of artists for the GelaSkins Surface Project. Their goals are the same but their personal experiences in life is reflected in their work.
Sam Shuter credits her striking "guys with suits" theme to family roots in the Montreal textile industry, while Darshie Designs GelaSkins collection is inspired by the wanderlust in all of us. Candace Kaye, a textile designer specializes in custom wallpaper for both hospitality and residential use, unlike Toronto photographer SoTeeOh who can't take enough high rez photos of his culturally rich city or Claire Desjardins who is inspired by her love of scuba diving.
The Surface Studio will be available April 20 at select retail locations, including the Microsoft Store and  from $3,999 to $5,549 CAD depending on storage, RAM and choice of Sixth Gen Intel processor Core i5 or Core i7 processor is ordered.
#GelaSkinsxMicrosoft