Today Samsung launched its flagship Galaxy S8 smart phone, in New York and London.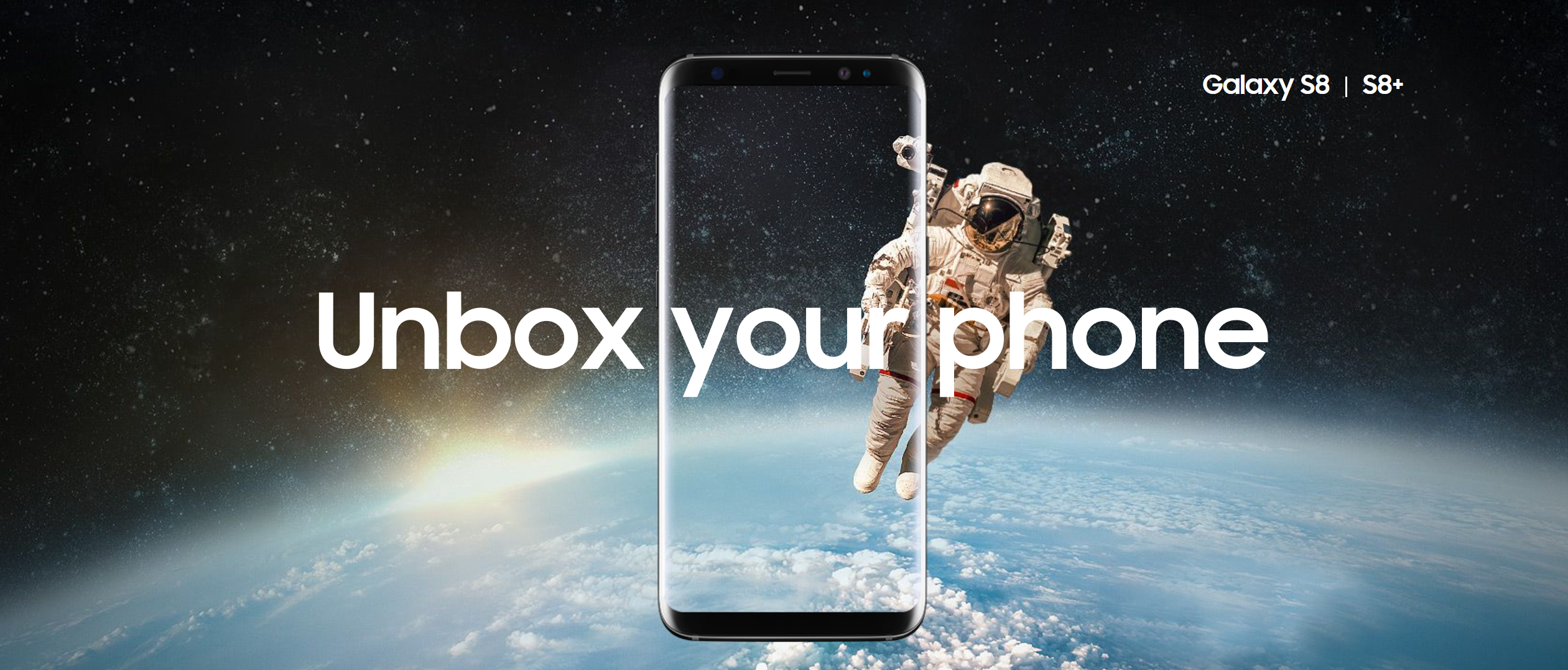 The S8 and S8+, bare little resemblance to Samsung's original candybar 320×480 3.2-inch AMOLED touchscreen Galaxy Phone GT-I7500, launched on April 27, 2009. That's some 169 successive Galaxy devices ago!
Apart from a larger physical size Quad HD+ 6.2″ screen, slightly faster processor, and larger 3,500 mAh from 3,000 mAh batteries and weight, both phones have the same feature functionality. The deceptively large 5.8" S8 is being marketed as a one-handed device due to the narrower 18.5:9 screen ratio, similar to but not the correct LG G6 ideal 18:9 (2880×1440) Netflix-adopted ratio for the new 2:1 Univisium display. Got it?
In other words, the Galaxy S8 or S8+ would have to stretch or crop part of a Netflix 2:1 Univision onscreen movie to fit its entire screen.
The S8 Infinity Display and "virtually" (there's still a hint of dark edge when viewed head on) bezel-less design is stunning, a slight improvement to the S7 edge. It seamlessly curves from the rear Gorilla 5 Glass to the front, (also glass – painted from the inside) sandwiching an internal aluminum frame. Not the first phone to do this, LG G6 does too, but I am not convinced a corner drop on a sidewalk without a case would be forgiving.
That's where cases come in and that's where all the gorgeous design of todays phones gets lost.
Still, the S8 and S8+ impress. There are fewer buttons, the main front multi-function button has finger print reading and start functionality.
FEATURES
The Galaxy S8 has an 8MP F1.7 Smart autofocus front camera and 12MP F1.7 Dual Pixel rear camera for outstanding low-light, zoom and anti-blur photos with enhanced image processing. It would be hard to better the S7 rear camera but the S8 does better for making sure you don't lose than one-in-a-million photo.

World's first 10nm processor in a smartphone, enabling increased speed, efficiency and less heat. Also gigabit LTE and gigabit Wi-Fi ready with support for up to 1 Gbps for power hungry users for more data loads in less time.
Certified by the UHD Alliance as MOBILE HDR PREMIUMTM for taking in the same vibrant colors and contrasts that the filmmakers intended while watching your favorite shows. It also offers next-level gaming experience with vivid and vibrant graphic technology on the Univisium display format as well as a Game Pack featuring top game titles, including select titles supported by the Vulkan API.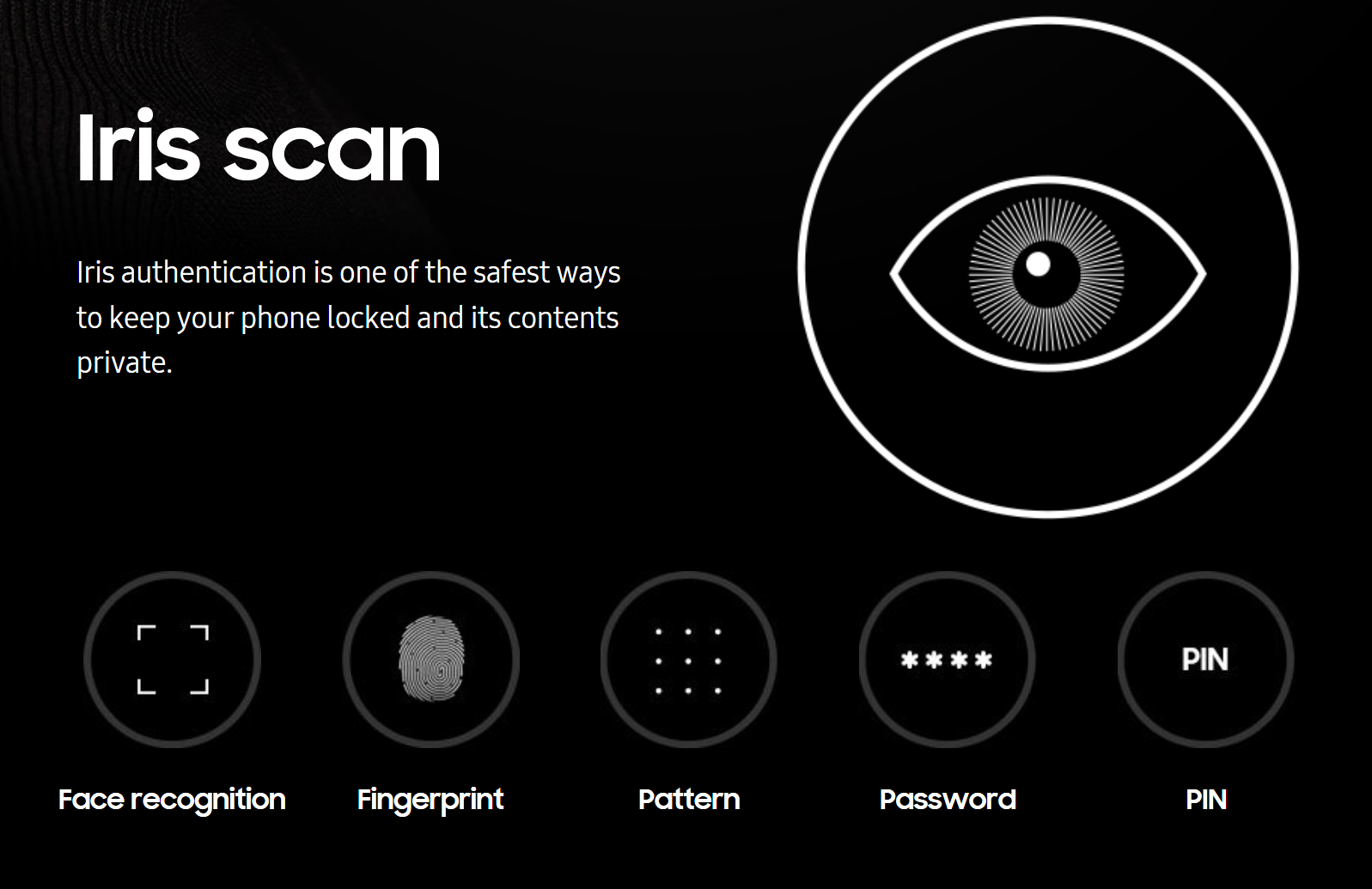 The Galaxy S8 is built on global security standard Samsung Knox, a defense-grade security platform. This might not mean much to most folks, but Knox is akin to Blackberry built in every Samsung phone. It has a wide selection of biometric technologies including a fingerprint scanner, iris scanner and facial recognition so users can select a biometric authentication method that works best for them.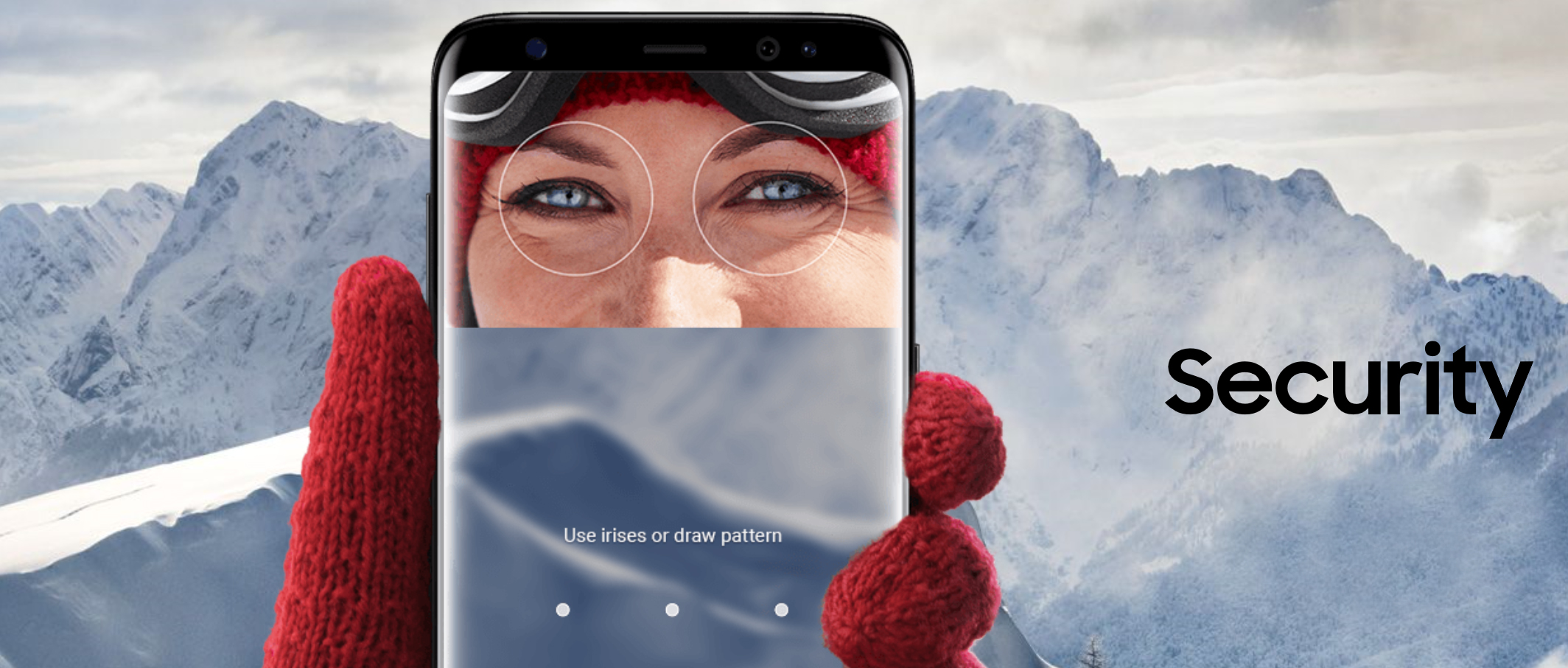 Bluetooth 5.0 with twice the speed and four times the range as Bluetooth 4.2, to keep connection up to 240 meters away from the phone with compatible devices. The S8 can send audio to two Bluetooth wireless headphones simultaneously.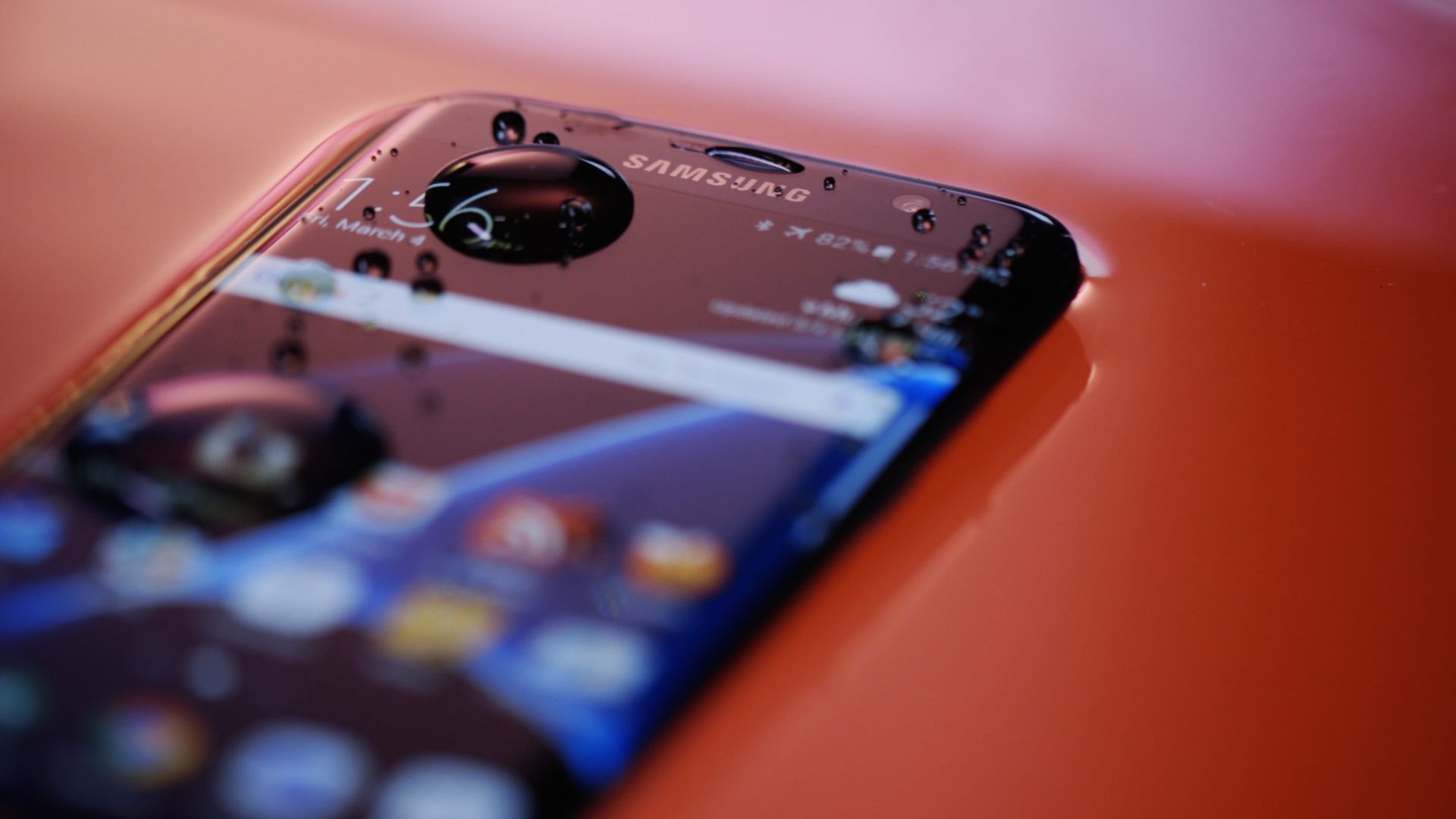 IP68 water and dust resistance, pretty much standard with today's top tier phones.
MicroSD support up to 256GB, Always-on display, 4 GB RAM and 64 GB memory, fast and wireless charging capabilities, thus the glass front display. A new nifty wireless charger, also become a phone stand.
Bixby is Samsung's own intelligent voice interface, with multiple functions overlapping iPhone's Siri, Google Voice Search, Amazon Alexa and Microsoft Cortona. Unfortunately, Bixby was still in beta at launch and may not even be included when the S8 and S8+ are in stores on April 21. It will launch in stages, as upgrades, starting with Bixby's Voice function to run Samsung native apps and features including Camera, Contacts, Gallery, Messages and Settings. Further down the road, perhaps months, it will expand to include voice command on more Samsung and third-party apps. Bixby's contextual awareness capabilities enable personalized help based on what it continues to learn about the user's location, interests and interaction. Even further down the road, Bixby's image recognition will enable you to automatically find online information on the bottle of wine you ordered at dinner or recognize scenes you shoot in your travels like famous bridges, buildings, paintings of statues – remember Google Goggles similar app, several years ago? Imagine being able to match colour patterns on clothing you look for online…but not yet. S8 owners can still use Google's Assistant, already embedded in the phone, for now.
BEYOND THE PHONE
Samsung announced new Samsung Gear VR with Controller, powered by Oculus, enabling one-handed control and navigation. A new Gear 360 (2017) 4K 360-degree video cam and 15 MP pictures was on the seat of every media guest to light up the theatre.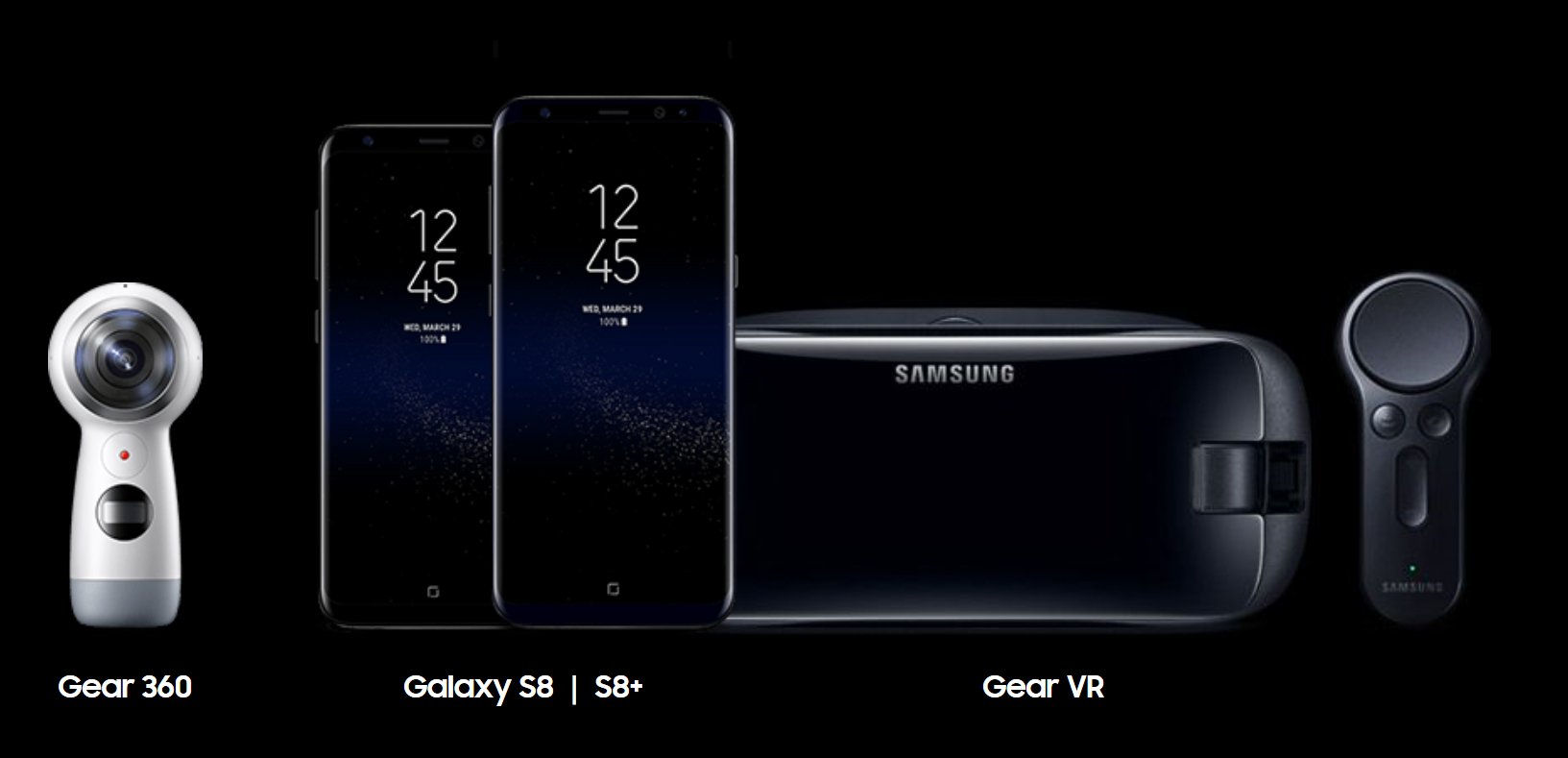 An exciting feature for the more powerful Galaxy S8, Samsung DeX transforms your smartphone into a desktop by providing a desktop-like experience.
The S8 and S8+ will be available for purchase for Canadian consumers beginning on April 21 in two colours: Midnight Black and Orchid Grey. Consumers who pre-order either device beginning March 29th through April 20th will also receive the new Gear VR with Controller as a gift with purchase.
As of this posting, the S8 will pre-sell at Bell Mobility for  $289.99 or 480.99 with plans or $1034.99 outright, and for the S8+ will cost $359.99 or $559.99 with plans or $1114.99 outright – TELUS Mobility will charge $250 or $490 with plans for the S8 and $320 or $460 with plans for the S8+ and has not posted a no-contract price yet. Rogers Mobility has no information.
SHOPPING HINT: Cellcos have two down-payment plans, the cheaper of which might save you money at the outset, but will end up costing you more from the 24 months of increased payments. If you can afford it, go with the larger down-payment option and save.
SHOULD YOU BUY IT?
If you own the previous S6 or older, an S7 edge would serve you well, with the up to now, the best quality phone camera. If you want one now, I would wait for at least a month, just to make sure the S8 gets a public clean bill of health. After all, consumers, consumers have been burned before on cutting edge technology.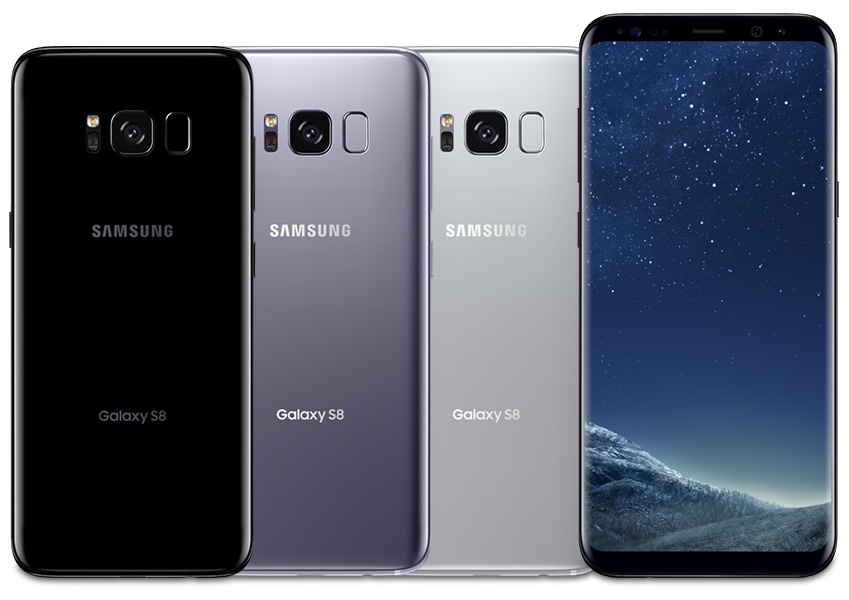 WHERE DOES THE S8 STAND IN MOBILE LAND?
Samsung has a rough ride ahead on many fronts to propel the S8 and S8+ phone over current and next iPhones. If Samsung keeps its successful two flagship phone six months apart cycle, discounting the planned non-North America refurbished Note 7 re-launch, one would expect another Note 8 in the works to keep the phone maker's momentum going. Two launches are better than one, right?
All challenges Samsung is facing aside, the S8's would be a good fit, even at $1,000+ prices with many tier one techie features. But the beleaguered company must outclass in all fronts:
It has the stigma of the self-immolating Note 7 which truly was innovative at launch time. A total recall and constant danger reminders aboard most airlines for months, was not the kind of free advertising the Korean giant wanted. Although Samsung did not delve much on battery safety for the S8, it has overhaled its entire design build and 8-point battery check procedure. It can't afford one battery mishap, period. Interestingly, the S8+ carries the same 3,500 mAh size battery as the Note 7 had.
Leadership scandal in the company's highest ranks does bring company honesty in question.
Android competitors are making better phones with innovative ideas. Samsung has the lion's share on Android phone sales. But the recently launched LG G6 available in Canada with tough batteries, computer-like heat dissipating system, unique super wide and normal photography and all glass looks has had the most promising pre-order sales numbers, good enough to prompt Samsung to release an unprecedented S8 commercial in South Korea, three weeks ahead of launch.
Although an Android phone, Samsung has had a penchant for developing and pushing its own software from an entire phone OS and smart watches to simple apps with mixed success. Samsung feels its phones are in a different league in the Android world, more akin to the iPhone. But iPhone has had cleaner product launches, ready for market, unlike the S8 not-ready-for-market Bixby.
If Samsung wants to reclaim its number one status in global sales it lost two quarters ago to Apple, it has to up its game, beyond a flashy phone launch. It won't be easy. On my casual rounds in Canadian cellphone stores across the country, 70 per cent of phones selling are iPhones, with Samsung a far second, leaving behind a slew of other good Android phones fighting for survival.