Follow my daily 12 tech days of Christmas. The words of the perennial 1909 festive song by Frederic Austin's original have changed slightly, but the meaning is all the same. Merry Christmas!
"On the eleventh day of Christmas my tech love gave to me, the most hi-tech items, ten low-tech gizmos, nine stocking stuffers, eight vacuum cleaners, seven image catchers, six shiny laptops, five top-tier smartphones, four odd collections, three streaming players, two instant photos and a java in a pear tree."
These awesome gifts are the best consumer technology offerings for extreme experiences. They range from several hundred bucks to more than a thousand. What is unique about them? Will they satisfy a need to go beyond what you have been used to? You may not want to go back.
THE HOTTEST 360 "ACTION" CAMS
Imagine being able to capture not just the view in front of your eyes, but the entire world around you—in every direction—as lifelike 360° 4K Ultra HD video, or still photos. You can view every part of this spherical image, whether still of video, by moving your phone screen around. You can enjoy the same experience when uploading the image or video online to YouTube or Facebook and swing your phone around to see all parts of this spherical view. If you have 360 VR headsets that come in different forms from a foldable cardboard set with the Nikon KeyMission 360, a better one from Google Cardboard VR or the top performing Samsung Gear VR or Google Daydream, and attach your phone to them, you can get an even more immersive viewing experience, again, by moving your head around. You can even play special games where the entire 360 spherical view is your game arena.
At the very least, stills from 360 cameras are more impressive than the GoPro, although not as good quality.  At best, if you get yourself in a breathtaking mountaintop view, inside a spectacular cave, in a hot air balloon, or on a Zip Line, like shown here, 360 cameras can share your experience, in person or online like no traditional camera. They use Bluetooth and WiFi to communicate and transfer photos and video to your phone and use Micro SD cards for memory.
Here are the two key players: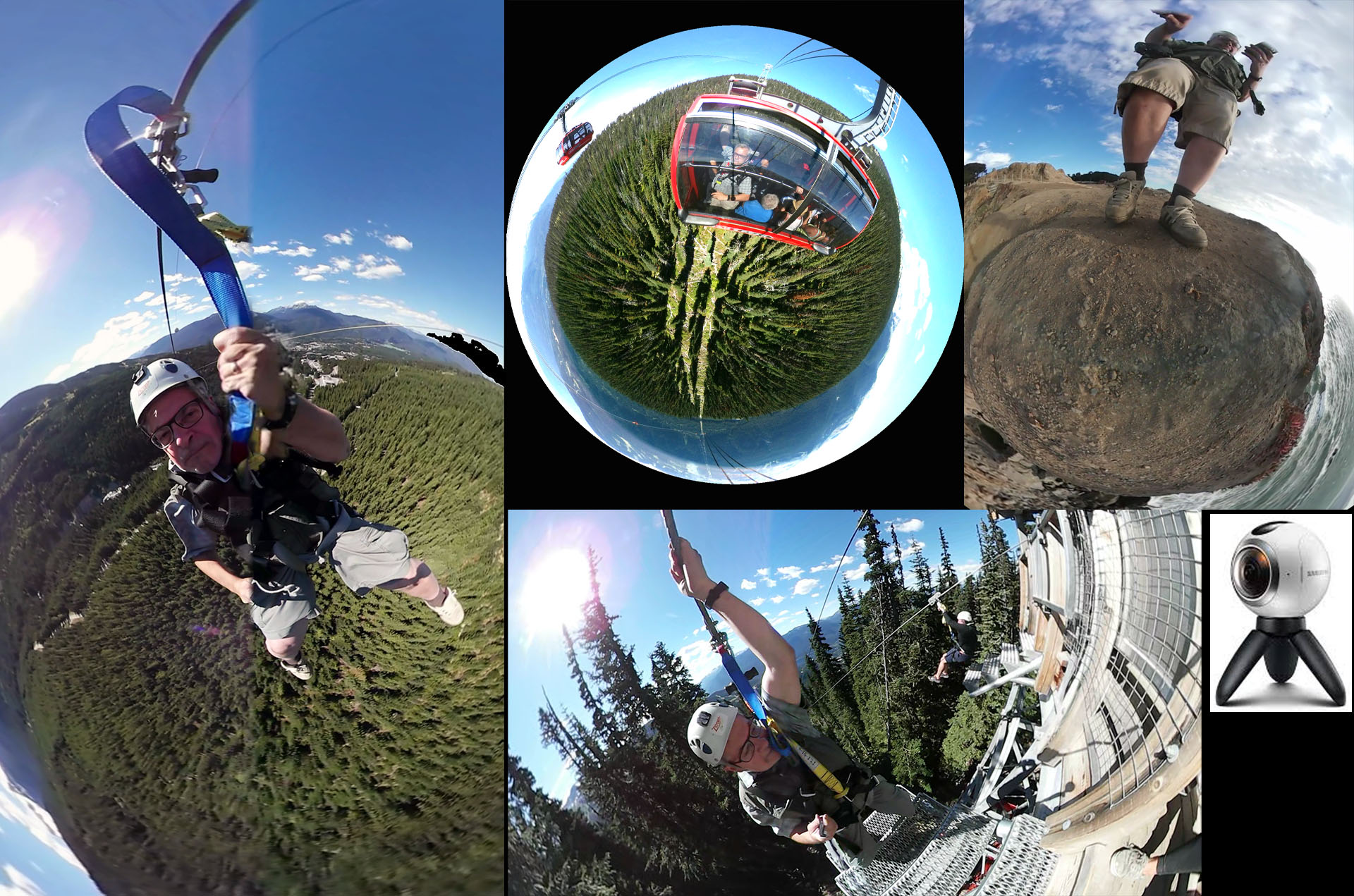 The Samsung Gear 360 Camera, $499.99, Equipped with front and rear 180-degree, wide-angle f2.0 aperture lenses, the Gear 360 can simultaneously record with both f2.0 lenses, creating a seamless 360-degree video, shot in near 4K resolution (3840 x 1920) at 30fps and it is weatherproof handling adverse outdoor weather and can shoot 30 MP stills. The Gear 360 is compatible with Galaxy S7, Galaxy S7 edge, Galaxy Note5, Galaxy S6 edge+, Galaxy S6 and Galaxy S6 edge and uses free phone software as well as a downloadable Windows desktop app for precise editing. It shoots 25.9MP still images in near 4K resolution. Single lens shooting mode allows you to capture with only the front or rear lens. It has Wi-Fi Direct for easily transfeing files to your compatible smartphone and use the smartphone's large screen as a handy remote viewfinder. It includes a small tripod. You can watch Gear 360 camera 360 VR on the Samsung VR headgear $99-$139 depending on sales.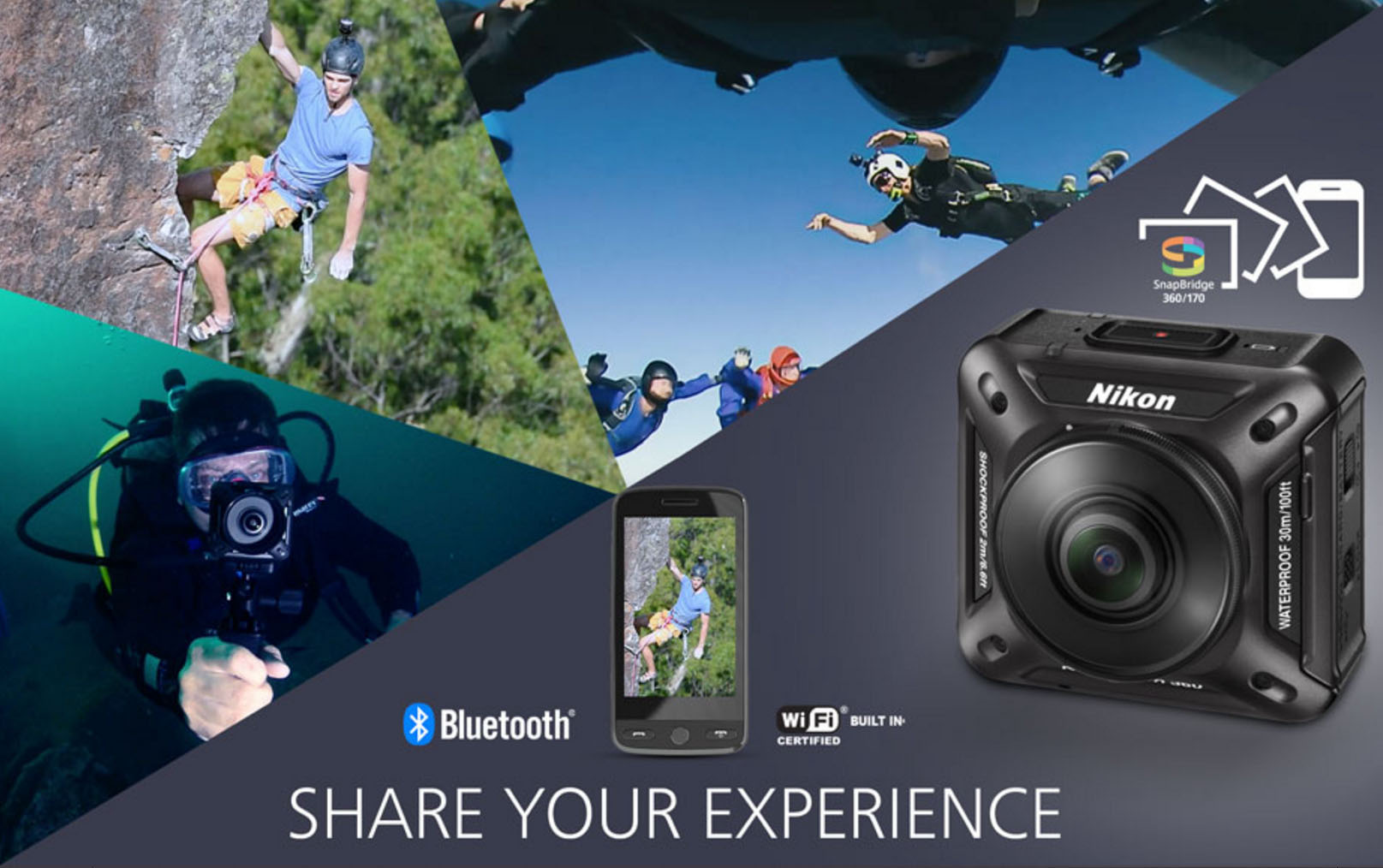 Nikon's KeyMission 360, $649.95, just out, is in direct competition with the Samsung Gear 360, using two F2.0 aperture ultra wide lenses to capture spherical images. You use your phone with free Nikon KeyMission software to control the camera. Like the Gear 360, The KeyMission 360 shoots 4K video at 24 fps and smaller 23.9 MP stills. But it has more features over the Gear 360 like being waterproof to 30 meters shockproof and freezer proof. It has vibration reduction, SnapBridge integration for real-time wireless sharing, time-lapse sequences, ultra-smooth slow motion videos or 23.9-megapixel stills. It comes with several more accessories like lens protectors and a simple adjustable ball mount with flat and curved self adhesive mounts. The two key advantages to the KeyMission 360 is its ability to convert the images to ready -to-watch VR movies or photos and can share wirelessly while shooting.
Which to choose? To me, the most important thing is visual quality. Although the Gear 360 records a 14% smaller image size, it is still sharper in still photos and can record video at 60 fps for smoother action. You can also choose the shooting settings directly on-camera from a small LED window in the absence of a host phone. Samsung owners would see the 360 as a perfect fit.
The Nikon KeyMission costs $150 more but offers onboard camera stitching, is more rugged and good to 30 metres of water and uses vibration reduction on playback and can share its VR images much faster from camera while shooting. It works with any Android phone.
SONOS SOUND, WHEN NOTHING BUT THE BEST WILL DO. EVEN THE FIRST SONOS SPEAKER GIFT STARTS AS AN INVESTMENT WITH A MULTI-SPEAKER SYSTEM THAT DOES NOT AGE OUT OF FASHION OR TECHNOLOGY.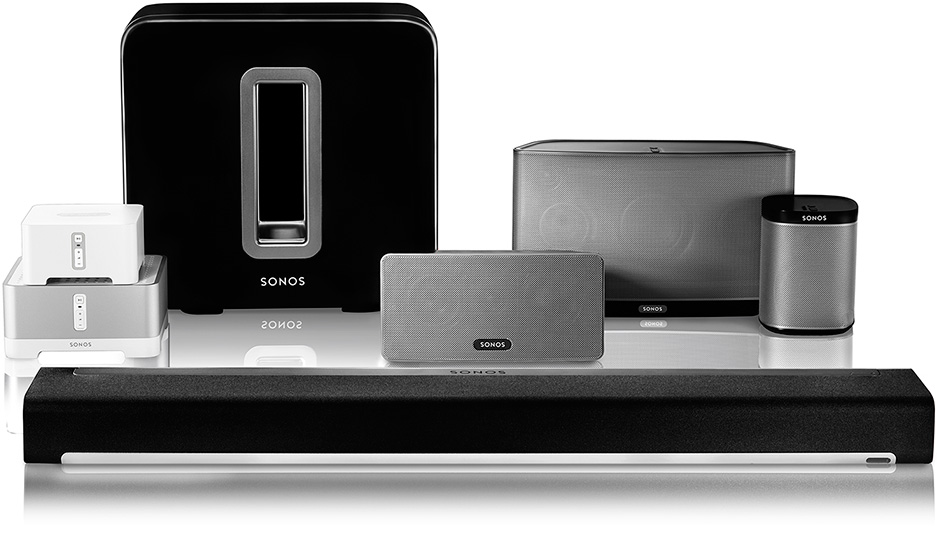 The SONOS WiFi-based speaker family is simple, comprised of only five speaker models, three of which can be used in pairs for stereo sound. They start with the PLAY:1, $249, smallest but impressive for its size, PLAY:3, $379, larger stereo and the awesome PLAY:5, $649, stereo which can also act as a single bass player if your budget is limited.
The SONOS very comprehensive iPhone, Android, Mac and Windows software can control each of many SONOS speakers in your home, playing separate tunes. Speakers can be grouped together for surround sound too. There are no speaker wires, just a power cord for each speaker. SONOS uses their sophisticated WiFi based algorithm to ensure quality streaming sound to all speakers.
You can build your SONOS system for one room for depending on your needs and budget. A typical starter setup are two Play:1 units in stereo, $498. Adding a Play:5 in the middle effectively fills the room with rich clear music and bass you hear and feel right down to your bones, $647. Speaker lovers might substitute the two PLAY:1 with two PLAY:3 or PLAY:5 speakers and add the SONSOSSUB with truly earth-shaking bass, bringing your maximum total to $2147.
So far you can listen to music from you cellphone or desktop computers, many free radio stations  and more importantly more than 40 streaming music services including, Spotify, SiriusXM Canada, Napster, Google Play Music, Apple Music and more.
Now you can start adding analog music from your vinyl record player by directly hooking it up to the 3.5mm audio plug in the SONOS:5. Want to listen to your TV on SONOS? This becomes contentious in the SONOS community as the required SONOS SOUNDBAR, $849, is the only speaker that will synchronize with TV audio with no echo lag. It accepts the optical audio cable directly with great 3.0 (left, centre, right) sound. To get full TV surround, you add your "pair" two  PLAY:1 speakers to the back of the room for an impressive movie surround. Under this three speaker setup, when you switch to music, the two rear SONOS:1 speakers assume full volume stereo while the SOUNDBAR pumps out acceptable bass. That's $1347.
If you want to keep traditional wired speakers, and your stereo receiver while you build up your SONOS system, the SONOS CONNECT, $449 or powered CONNECT:AMP $649, will create a streaming music experience with old and new.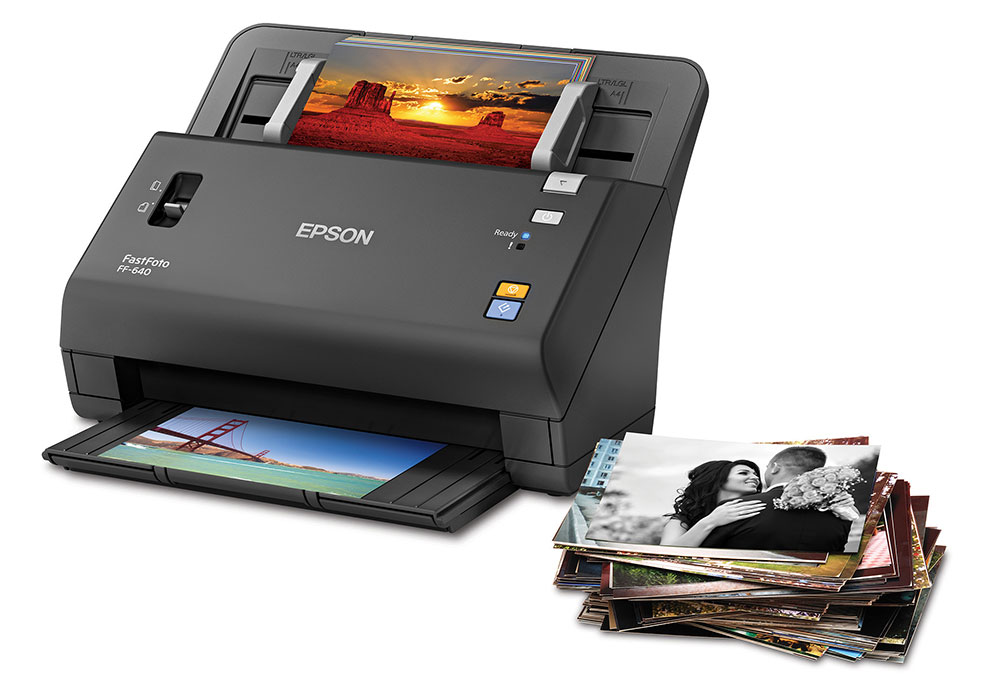 A GREAT WAY TO SAVE CHERISHED FAMILY PHOTO ALBUM PRINTS FROM OBLIVION. OK, NOT AS SEXY AS 360 CAMERAS OR GREAT SPEAKERS, BUT EPSON HAS COME UP WITH A LIGHTNING FAST SCANNER TO SAVE THEM.
Epson FastFoto FF-640 High-Speed Photo Scanner is a single-step technology that captures both the image and handwritten notes on the back in a single scan in high-quality scans up to 600 dpi. It can scan up to 60 ppm at 300 dpi (33 ppm at 600 dpi). This means as fast as one second per scan. You can stack your album photos for auto continuous scanning. Custom FastFoto software brings new life to old photos automatically with Smart Photo Fix (SPF) Technology, red-eye removal, and colour enhancement features. You can also add information on groups of scanned photos for easier search later. Compatible with Windows 10, Windows 8/8.1, Windows 7, Mac OS X 10.9.x.  It's pricey, but one-of-a-kind, so consider sharing the FastFoto purchase between several families or friends  to keep past memories alive in your digital world. www.epson.ca