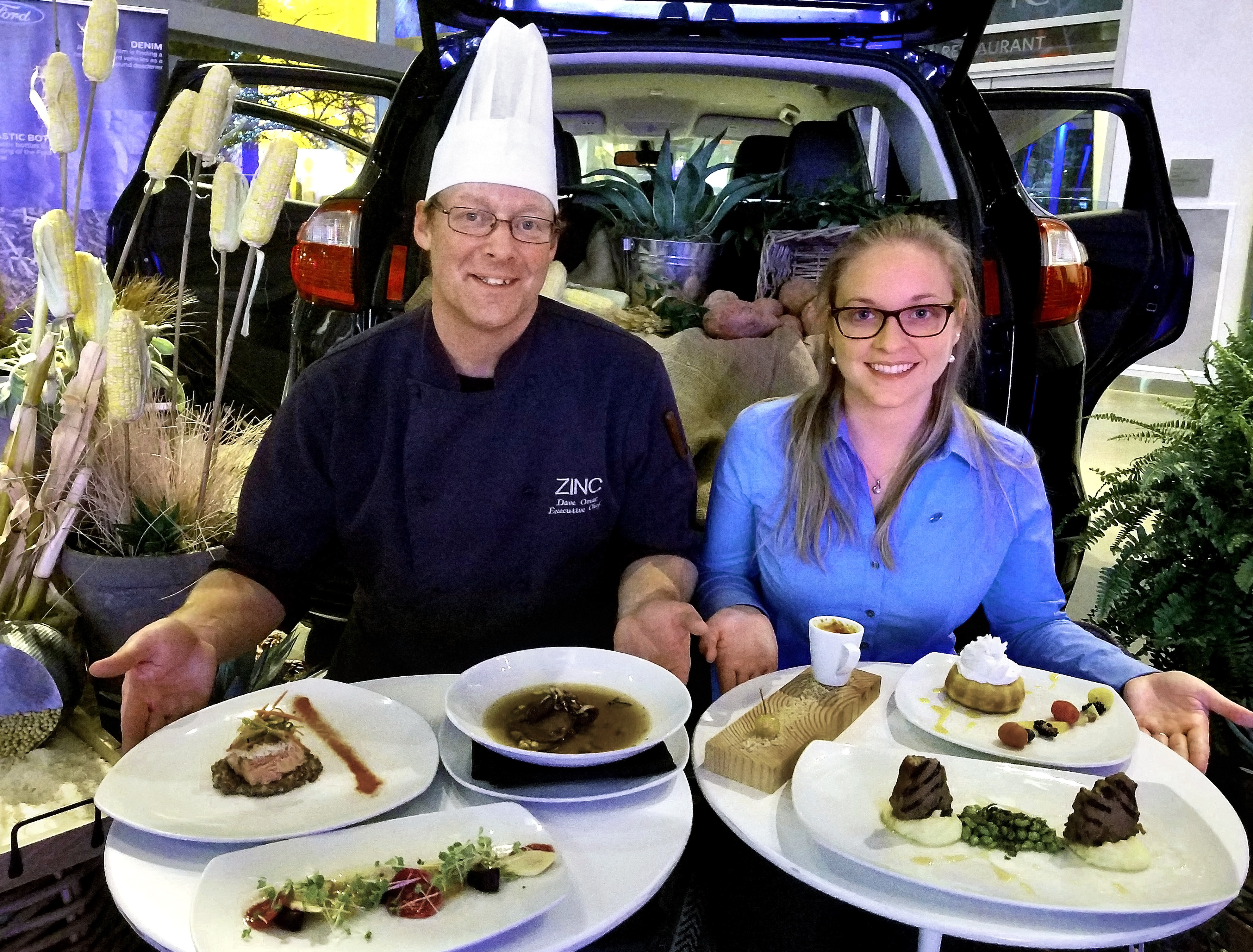 Ford Canada hosted a unique From Farm to Ford six course dinner at the Edmonton Art Gallery.
The automaker promoted its research on using sustainable materials in its vehicles.  The program, started in 2000, uses several bio-based materials in its vehicles, and is testing many more for future applications including algae, tomato peel and carbon dioxide.
We ate some of that with wine served under the Edmonton Centre skylight.

The work helps improve Ford's environmental impact by reducing the use of petrochemicals (plastics) and reducing carbon emissions while also making vehicles lighter to reduce fossil fuel use.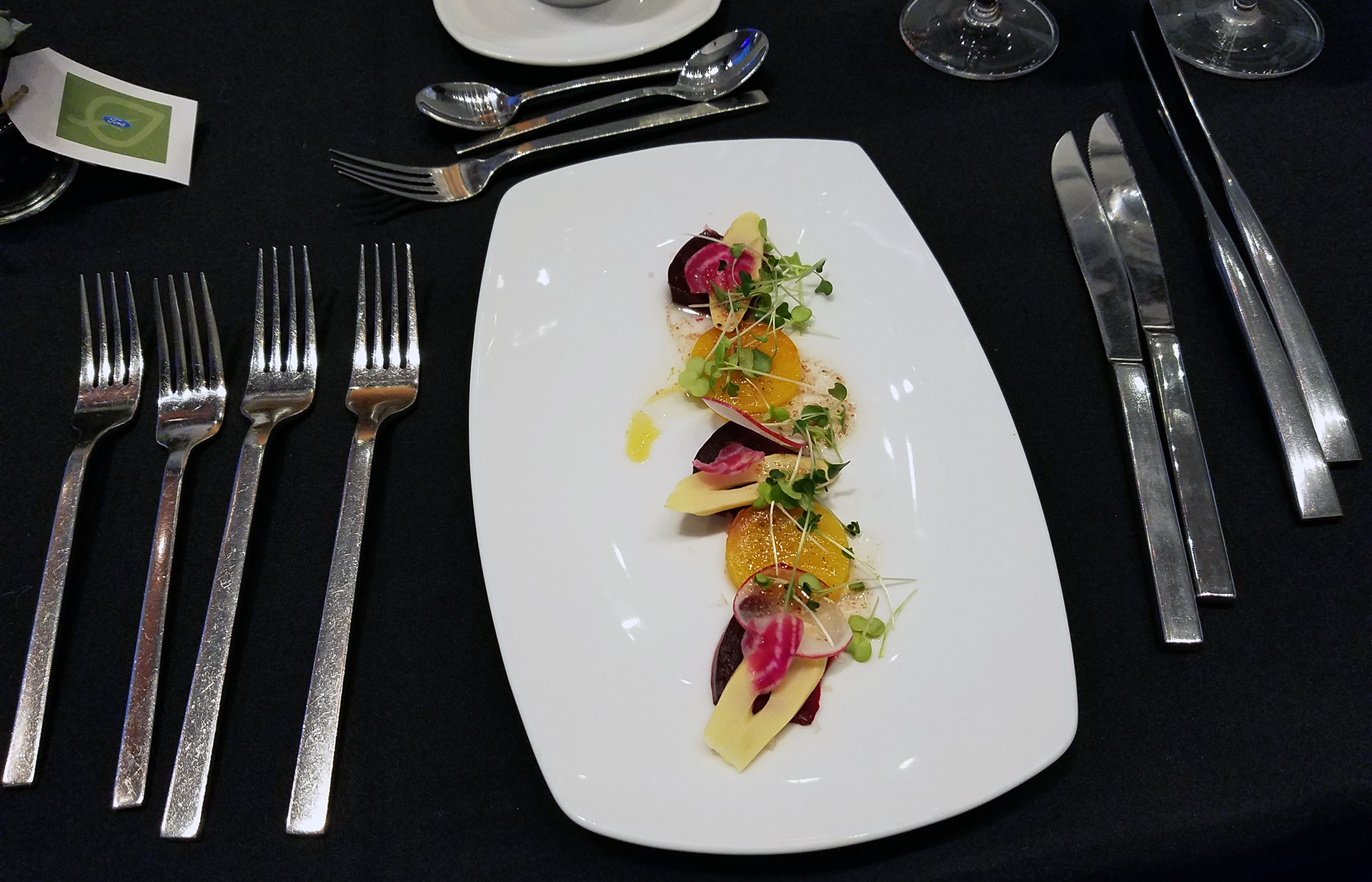 The six-course meal, was prepared by Dave Omar, Executive Chef for Zinc Restaurant located in the Art Gallery of Alberta. He said it was a challenge to come up with interesting recipes using some of the agricultural foods whose by-products are used in auto parts. "It took me a week to plan the course," he said, hunting down spices in his favourite small speciality shops in Edmonton.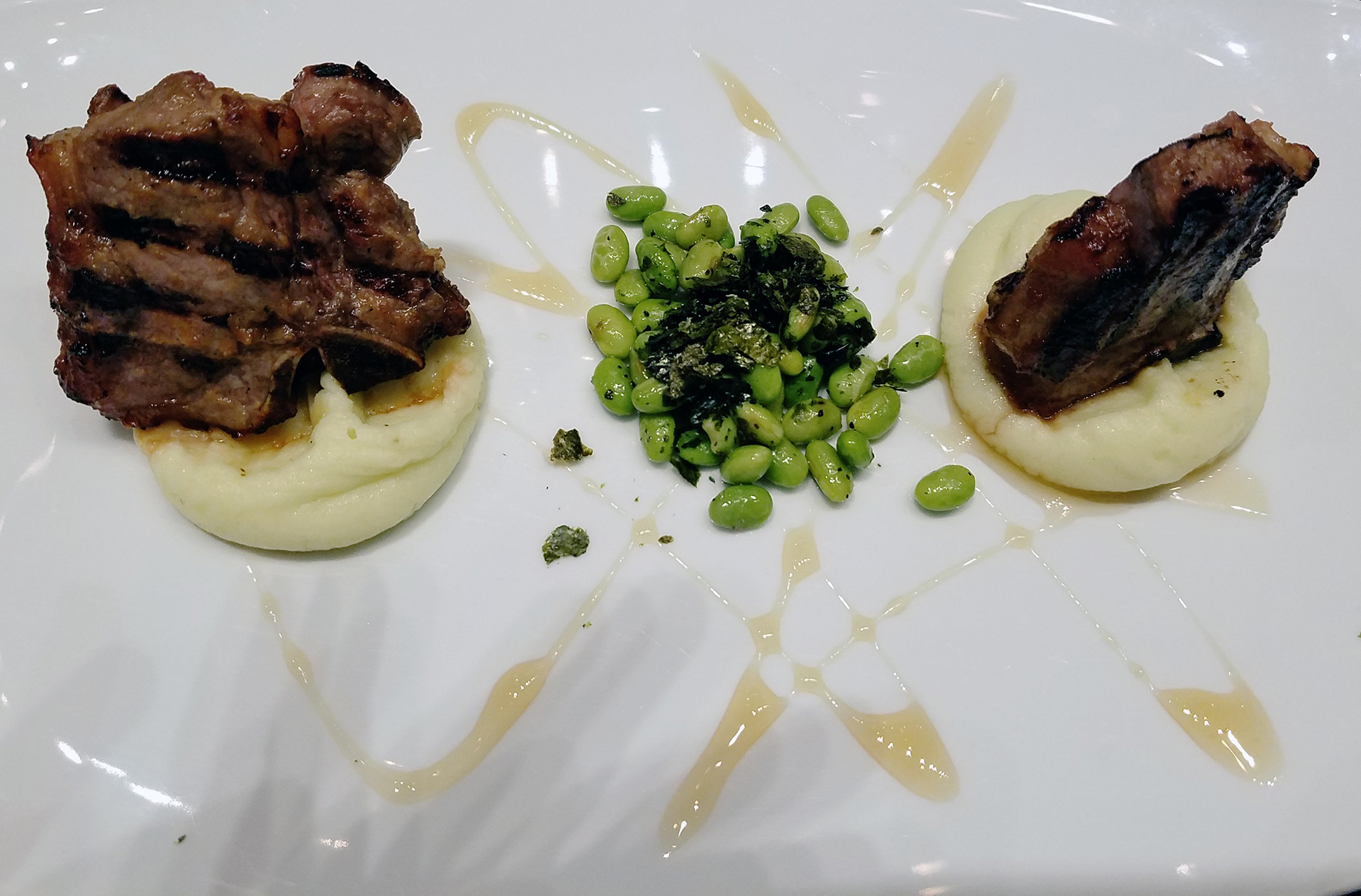 The meal courses, from salmon, lamb and bison tongue included soy, bamboo, deep root dandelions, wheat barley and rice.
Omar, would introduce every course while Ford Motors bio-materials research engineer Mica DeBolt would follow with what part of each served course would end up in current Ford models in the form of carpeting, fabric, padding, sound insulation and more.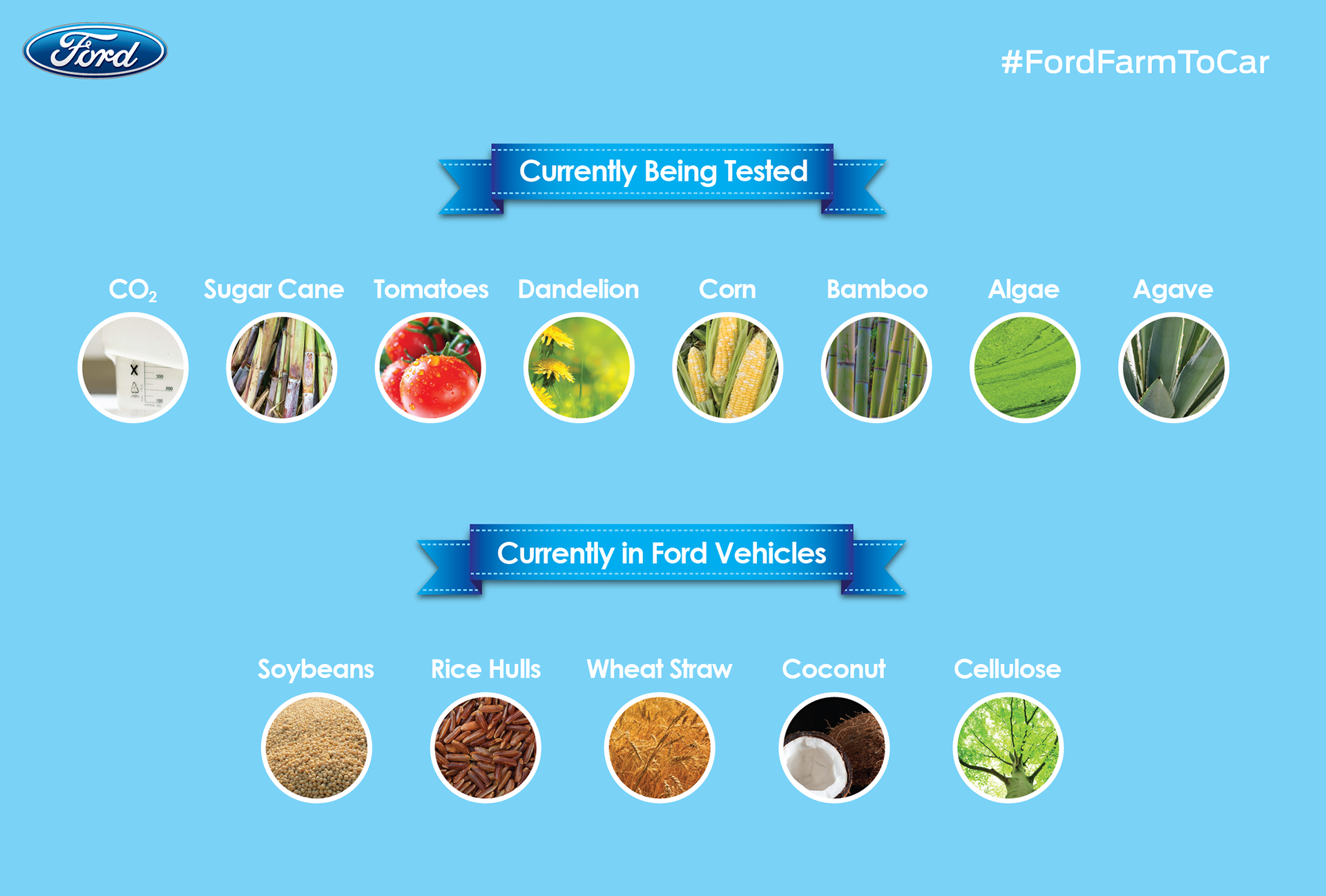 Here is a list what products end up in current Ford cars:
Kenaf, a tropical plant in the cotton family, is used in the door bolsters of Ford Escape
REPREVE fabric, made from recycled plastic bottles, diverts more than 5 million plastic bottles from landfill annually. Ford most recently introduced REPREVE in F-150
Post-consumer cotton from denim and T-shirts is used as interior padding and sound insulation in most Ford vehicles
EcoLon post-consumer nylon carpeting is used as cylinder head covers in Ford Escape, Fusion, Mustang and F-150
Recycled plastic bottles are becoming floor carpeting, wheel liners and shields in several vehicles including Ford Transit and C-MAX
Recycled post-consumer tires are used in seals and gaskets
Rice hulls are used to reinforce plastic in Ford F-150 electrical harness
Soy-based foams are used as seat cushions, seatbacks and head restraints in Ford's North American vehicle lineup
Wheat straw is used in Ford Flex to reinforce storage bins
Cellulose tree fibers are used in the armrest of Lincoln MKX. Used to replace glass-filled plastic, this industry-first material weighs 10 percent less, is produced 30 percent faster, and reduces carbon emissions
Thankfully, there were no plastic bottles, recycled tires or shredded decommissioned US paper money served. So, for my next Ford car, hold the gravy and heavy on the sauteed soy beans!
Speaking of food, check this Ford Coconut and White Chocolate Fudge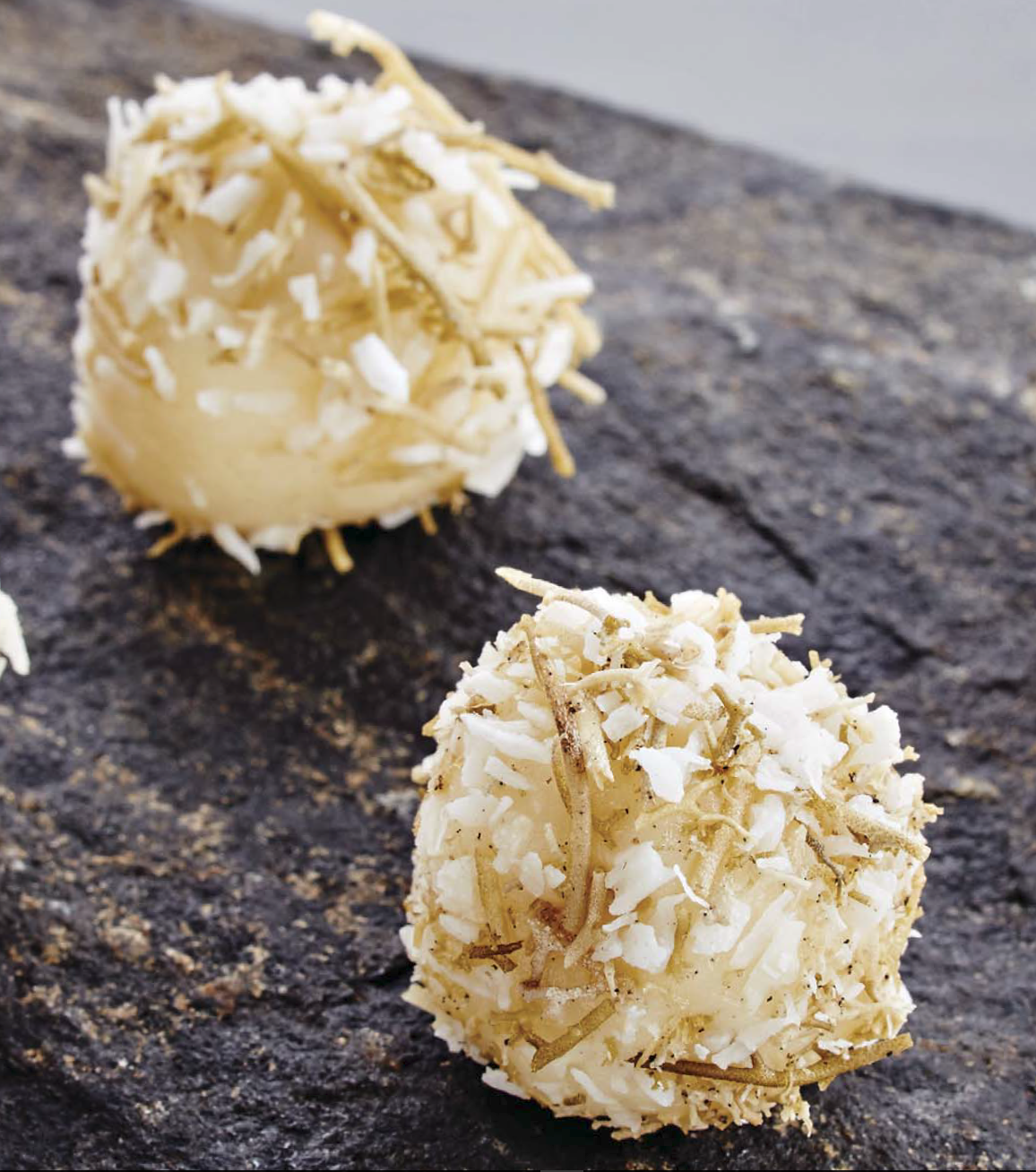 In a pot, melt butter, sugar, sour cream and white chocolate.
Heat to 235F (113C) for about 7–10 minutes.
Place a non-stick mat on a baking tray and pour chocolate mixture to cool.
Using a spoon, scoop the fudge mixture and roll them into little balls,
about 1 Tbsp (15ml) each ball. Makes about 30 truffles.
For lichen, trim any brown bits on the stem.
Submerge the lichen in a large container of water and shake vigorously.
Remove any large needles and dirt.
Boil the lichen in water for about 20 minutes, use a weighted tray to keep
the lichen submerged in the water. Strain and set aside.
In a pot, mix the water and sugar to create a simple syrup. Add the lichen
and boil for about 15 minutes. Strain. Place the lichen in a dehydrator or a
very low oven until the moss is completely dry.
Crumble the lichen and mix with the coconut flakes.
Toss the room temperature fudge balls in the crumble and coat evenly.
¼ cup (60ml)
1 cup (250ml)
¼ cup + 2 Tbsp (80ml)
6oz (175g)
½ cup (125ml)
1 cup (250ml)
1 cup (250ml)
1 cup (250ml)
3 Tbsp (45ml)
Unsalted butter
Sugar
Sour Cream (full fat)
White Chocolate, chopped
Coconut Cream
Moss (Lichen)
Water
Sugar
Unsweetened Coconut Flakes
Recipe by Chef Justin Cournoyer, ACTINOLITE