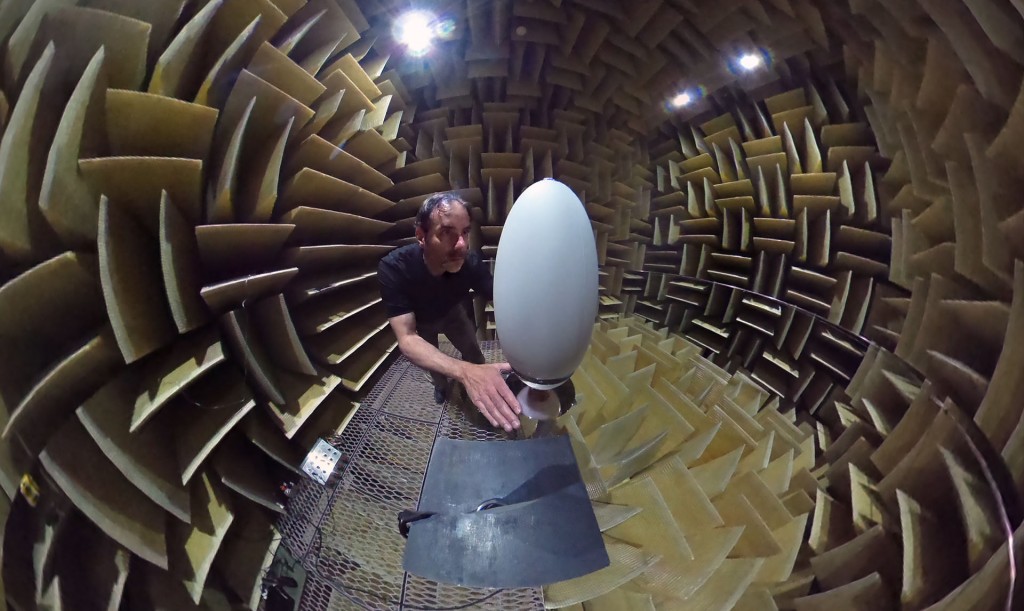 Isolated in total silence, Bill Decanio snaps his own Theta spherical camera photo while adjusting the new Samsung Radiant R7 wireless speaker at Samsung's Los Angeles  Audio Research Lab anechoic chamber
Two years ago, Samsung decided consumer speakers need more attention. Not just stand-alone models but smaller speakers in TV audio bars and inside TVs.
The Korean electronics giant went about gathering the best folks in the audio industry, to "dominate the audio market" starting with Canadian expat Allan Devantier, a much respected audio expert whose last job was Manager of Acoustic Research Harman International.
"We want to create a good experience beyond the speaker itself ," said Allan, Director of the US Audio Lab at Samsung.
Allan, who started building speakers on his own while in grade 12, embarked on high cherry picking , bringing in a staff of 14 rocket scientists which include 3 PhDs, 4 Masters and five active musicians totalling more than 200 years of audio engineering and research experience.
18 months ago the Samsung Audio Lab, plopped itself about 50 minutes outside Los Angeles in the middle of a bustling audio industry. The 5500 Square foot lab with two deadly silent anechoic chambers for objective performance speaker testing and two listening rooms began dissecting then current speakers in Samsung products. This included consumer standalone speakers and smaller ones in Samsung TVs. The later resulted in a huge audio improvement across the Samsung 2015 line of TVs.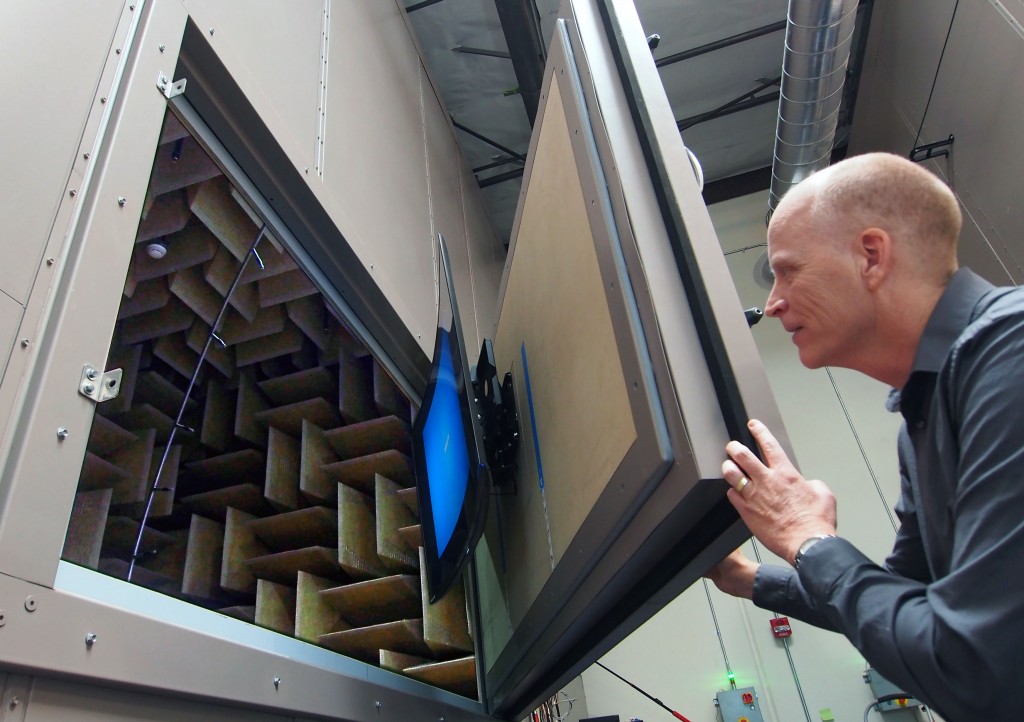 The lab's first consumer speaker, the Radiant R7, $599, appears in Canadian stores at month's end. It is totally wireless using Bluetooth for direct connection with smartphones and WiFi in a home among up to dozens of sibling speakers in multi-speaker configurations. It also becomes part of a Samsung TV's speaker system.
The R7 has a radical design, radiating its entire bass and tweeter frequencies evenly around.  The labs innovative acoustic testing included simulated testing using thousands of algorithms, computed overnight. That, in contrast to the analog years where testing was done on constantly rebuilt real speaker components.  A haphazard way of sometimes coming up with a good speaker.
The anechoic chambers do the objective testing, measuring  speaker output characteristics. Compare that to a typical room where the speaker sound is followed by second and third deflected sounds which can add or take away a speaker's character.
I am a casual music listener today, a shadow of the audio file fan of some 40 years ago. My audio senses we re-awakened as lab team members explained the invisible goings on when a speaker makes sound. Like coping with waves of deflected sound and tweaking minute components.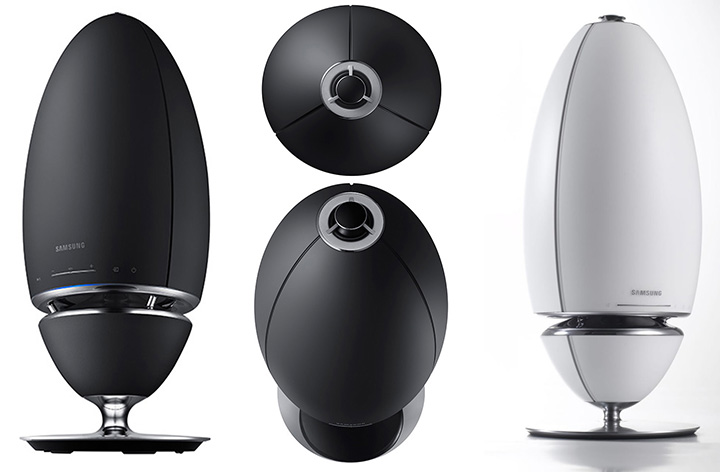 Then there's the politics of lab engineers negotiating with designers who have no concept of sound. The top of the tweeter on the R7 went through several incremental changes keeping designers happy but more importantly defending sound integrity by the lab.  
I was among four other Canadian tech writers, the first group invited to the lab recently. We learned how to listen to speakers objectively, well sort of and were put through a blind test of the Samsung R7 and two professional monitor speakers, one worth $2,000 and the other $5,000. During testing, the speakers, each powered optimally, were switched around behind a cloth and we listened to a variety of short vocal and instrumental music. The word subjective kept on ringing in my head but interestingly, our group did vote for the $5,000 speaker but we were split over the $2,000 dollar speaker and the R7, to the delight of the lab!
The Samsung Audio Lab has plans to upscale the size and power of the 100 watt R7 and have a few tricks up their sleeve they wouldn't disclose.