A smartphone cradle that runs like a desktop computer on any big screen with mouse and keyboard?
Say hello to Samsung's DeX Station, $249.99 CDN, portable charging cradle on steroids, complete with wireless smarts, Ethernet, two USB, one power and HDMI ports making any monitor or TV a desktop-like experience. For now, it only works with Samsung's newest S8 and S8 plus smartphones, with more compatibility in the works.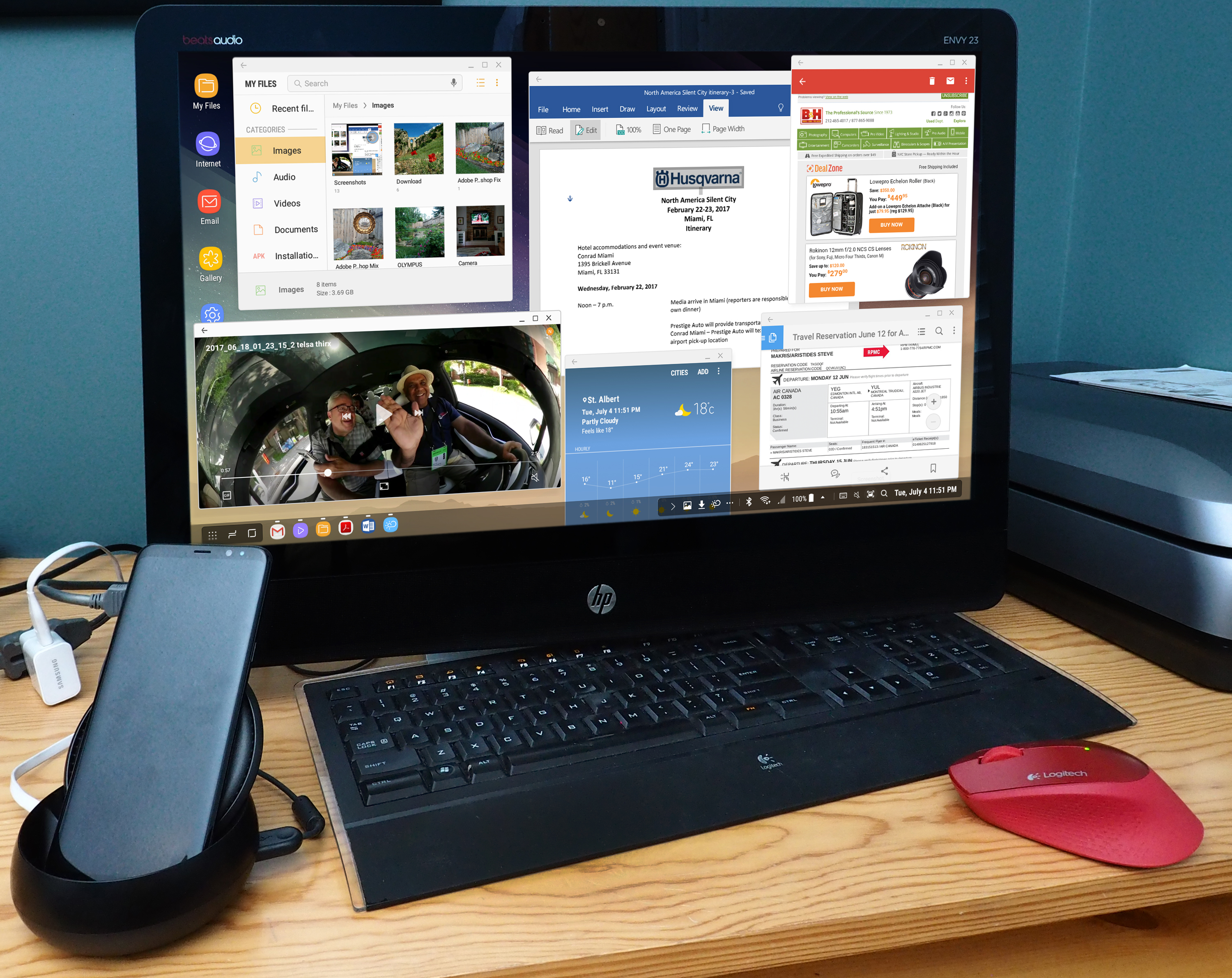 DeX let's you experience Android on the big screen, simultaneously running productivity and entertainment apps in sizable overlapping windows. It looks like much thought was given to DeX but there is room for improvement, especially better support from Android apps.
More than three dozen apps work on DeX in various degrees. Most still look similar to the phone experience with a slightly larger window. Thankfully, all Microsoft Office Apps have expandable and overlapping movable windows as do email, browsers and media files. It does feel like a Microsoft Windows experience. That is a game changer.
Does this mean you can ditch your laptop for your phone? Not quite, but catching up on your email and other notifications, while working on Excel files or planning a presentation on a big screen from your phone means fewer devices to take along. Samsung's Knox security works here too and all files you change or create stay in the phone itself.
You can run a full screen slide show or movie from your S8 phone too. The setup lets you choose between phone speakers or monitor/TV speakers through the HDMI connection. Nice! While in DeX mode, you can make or receive calls and respond to messages. The silent fan in the DeX keeps your phone cool, a good thing for any electrical device. There is also an option to toggle between DeX desktop mode or normal cellphone view.
The maximum supported resolution currently is FullHD.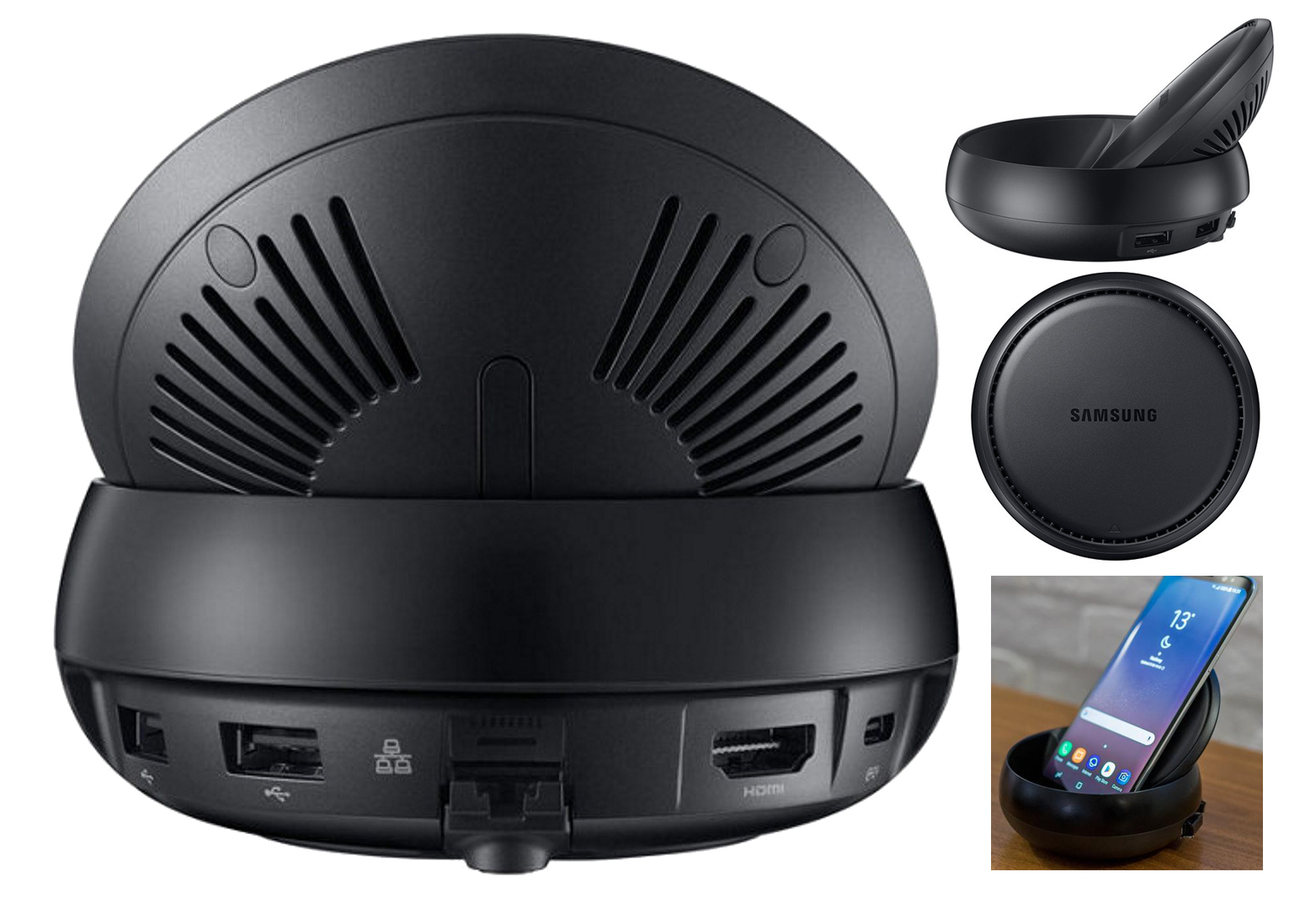 So, the big question is…who needs it? It will not replace even the cheapest $300 Windows laptop with better designed apps and it does require you carry an assortment of cables, mouse and keyboard. Even older corded keyboards and proprietary Logitech mice with their own mini-USB transceivers work with DeX, as do wireless Bluetooth models – so think, hotels, cruise ships, Airbnb or a friend's home.
Can DeX replace banned laptops in planes?
Let's think out of the box. A smartphone that can convert to a desktop device.
I'm thinking of the ongoing ban of laptops and tablets on US bound flights from suspect countries. There are half a dozen airlines with the device ban. Dr. P. K. Kannan, professor of Marketing Science at the Robert H. Smith School of Business at the University of Maryland, thinks laptop bans provide a great opportunity for both Apple and Android as users are more likely to use more apps on their mobile phones to enable them to be more productive in planes. "This also opens up opportunities for airlines to provide high speed connections where customers can access their remote data" said Kannan, an expert in analyzing consumer trends and marketing data, about recent technology trends.
Is Samsung talking to airlines about DeX? Ironically, the Korean tech giant who had its flagship fire-prone Note 7 banned from all flights last year, now has a portable ashtray-size device that can make a personal smartphone go a long way and replace laptops on flights.
What about laptop makers? Could Samsung swing a deal to include a DeX plug in? "From a strategic perspective, this technology is a competition for laptops and desktops" said Kannan. This technology uses a large screen but does not necessarily interact with laptops and desktops. I would say OEM's will not show much interest in this especially if it remains a niche technology."
In the end, consumer and business travellers will gravitate to the right emerging sharing technology between phones, tablets, laptops and desktops.
DeX is a notable spoke in the constantly spinning wheel of how we work and play on our devices.