A 13" wide printer that prints pro-quality photos on a myriad of stock including exhibition art paper, canvas, thin vellums, archival acid and lignin free paper to even posterboards up to 1.3mm thick.
It even takes on work, home and school duties including scan and auto print up to legal paper size documnets, auto 2-side printing, two front and one rear paper feed with different papers, direct wirless printing from your smartphone and more.  
Yet it won't break the bank like traditional ink cartridge replacements do, nor will it cost a small fortune spent on quality photo lab prints.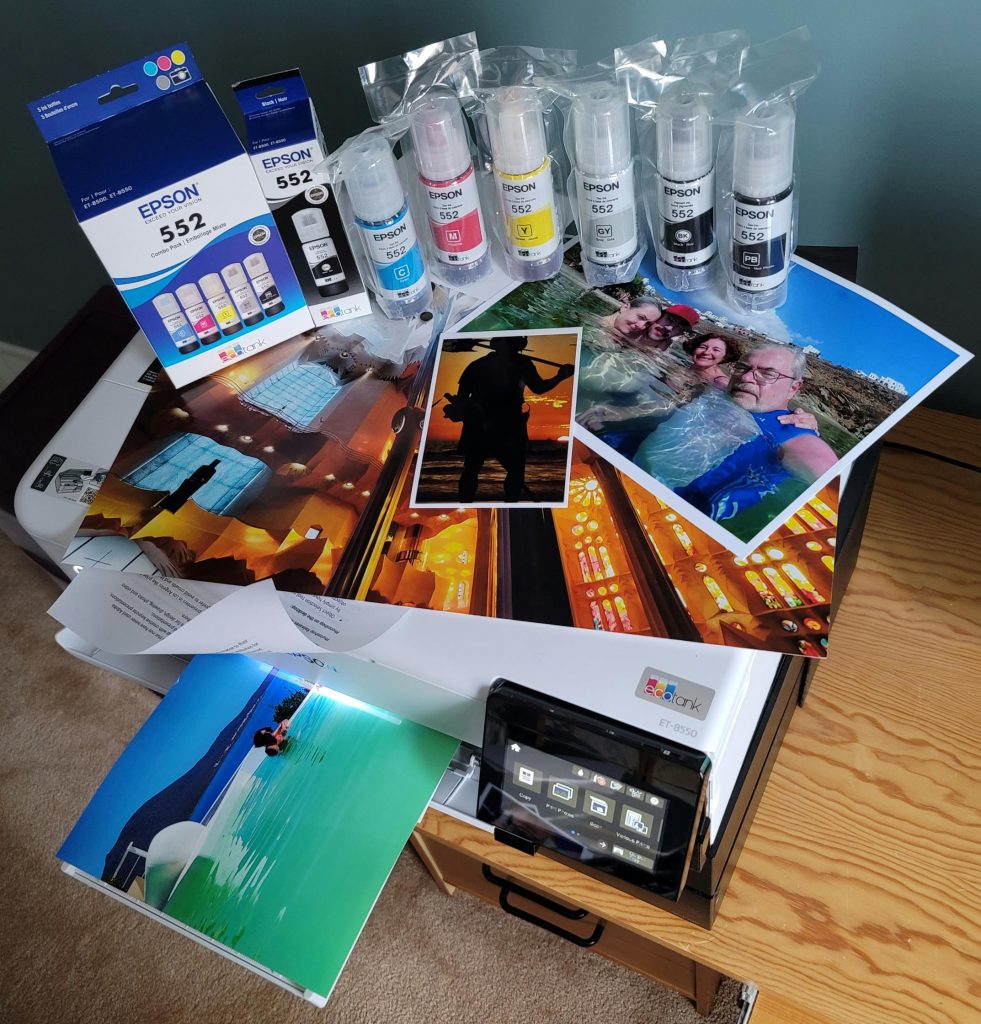 Say "I love you" to the Epson EcoTank Photo ET-8550 All-in-One Wide-format Supertank Printer, $1,100. Its secret is the included EcoTank 70ml bottles of six colour inks, Cyan, Magenta, Yellow, Black, Photo Black and Gray. As you read on, you will appreciate what a great opportunity the ET-8550 offers for photo enthusiasts to finally print affordable professional quality prints up to 13″ x 19″.
The 6‑Colour Claria ET photographic dye inks produce exceptional colour and black & white photographic print quality. The additional Photo Black and Grey ink add tone richness and depth in color and exhibition quality B&W poster printing.
What the ET-8550 Printing Quality Means
A full $140 ink set equates to 230 13" x 19"colour Photo prints costing a fraction of what online photo labs charge. That's 60 cents of six color ink for each 13″ x 19″ glorious print. At "Best" 5760 x 1440 dpi quality there are no visible inkjet droplets, the closest thing to traditional photographic paper…that's as close to real life it visually as it gets folks.
Compare ET-8550 Cost of Ownership With Other Pro Epson Printers
The Epson Surecolor p700 13" printer with the same top printing resolution costs almost $500 to replace all 10 traditional cartridges compared to the ET-8550 $140 full replacement set. With all that more ink you go for years not months between refills. This represents 85% savings. Sure the extra three light primary colours, additional violet colour cartridge and carbon black of this cartridge based printer may add more punch and depth in certain kinds of photoss, but when comparing dozens of personal travel photo enlargements and high-rez scans I made against the ET-8550 I could hardly tell the difference in visual quality. And they were both EXACTLY just as sharp.
Measuring My Ink Usage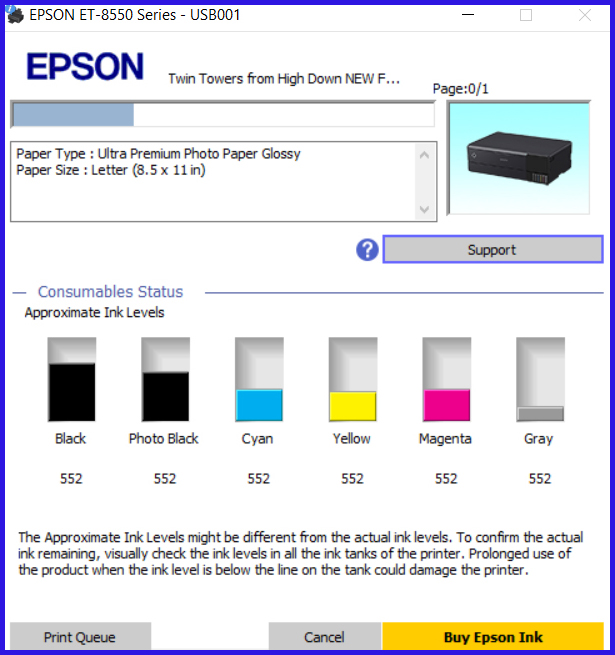 13 B&W prints (Documents)
551 color, a mix of album size and 8.5″ x 11″
A total of 564 prints
The above shows the ink usage on my test ET-8550 from the start, using the out-of-the box ink (20% was used for the first ink install) The most use was the Gray ink meaning the majority of printing was done in colour, thus still leaving more than half of the Black and Photo Black. This comes close to the ISO measurments Epson provided.quality.
Print Costs
Unquestionably, the cost of ownership counting paper and ink consumables on the EcoTank ET-8550 is a fraction of what you pay for an 8×10" print online or a local consumer lab.
Check the 8×10 print prices in Canadian local or online photo print labs against the ET-8550:
Poster Jack               $5.00
Easy Canvas Print $7.90
Henry's Photo         $3.99
Costco                      $1.99
ET-8550                   $1.05 (ink and Epson Ultra Premium Photo Paper included)
Examples of Small and Big Print Enlargements
I based Epson's best Ultra Premium Photo Paper glossy 20-pack, averaged out between full list and discounted sales and averaged ink yield out between the ET-8550's initial setup using 20% of the included Eco Tank 70ml ink bottles with full use of ink in the next subsequent refill:
Epson'sout of the box official full Photo ink yield is 1,800 4″ – 6″color photos off the included six EcoTank 70ml bottles. A one-time initial setup consumes 20% of that ink. This means the first out of the box ink yield of 1,800 4″x 6″ color boarderless prints was averaged out with the first refill, which would yield 2,300 prints.
Conversly, the ET-8550 prints 5,500 document pages (black) , our 4,900 pages full color. Again, after the first refill on a full 100% EcoTank bottle set yields 6,700 black, 6200 color documents and 2,300 4″ x 6″ Photo quality prints.
Document print speeds are 16 ppm black and 12 ppm color. Not bad for such wildy flexible large format printer.
The cost of 4″x 6 " boardeless Epson Photo quality print on the ET-8550 is $0.09 (9 cents) including paper. Compare that to other online or local labs who charge $0.35 per 4″ x 6″ print.  
Conversely, a full set of six Eco Tank bottles $140, would yield 230 13"x19" glossy prints costing $3.32 per print and ink compared to the $12 -$6  per print cost range across Canada.  
Canvas prints are also much cheaper on the ET-8550. A 13 x 48" print off a roll of Epson 13" x 480" Canvas paper roll (which costs $98.80) costs $9.88 compared to the $99 for a single similar size panorama easy Canvas Prints charges. See below on printing on roll paper with the ET-8550
Printing Roll Paper on the ET-8550
I even crossed the product manual boundaries with roll panoramic 13" paper for those willing to try extra wide 13" wide panoramas (it works). Check out expert Keth Cooper's YouTube on how to do it.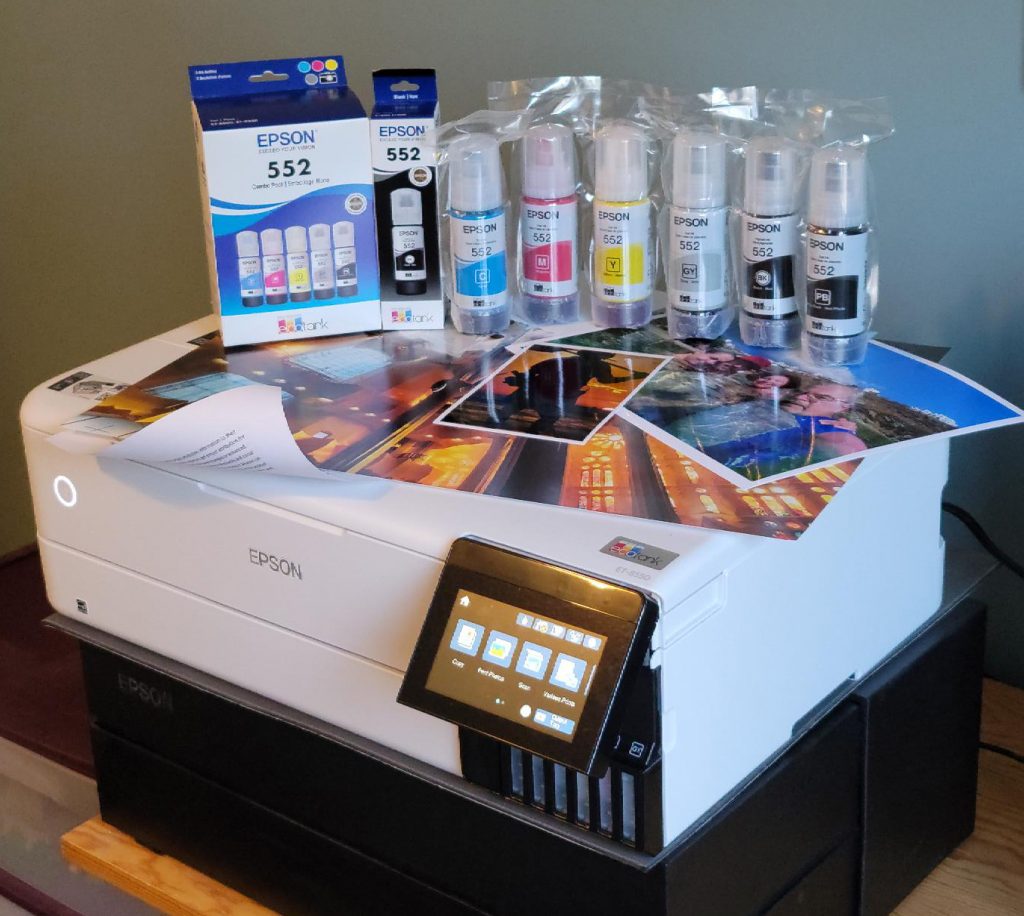 More About EcoTank
With all those gorgeous color prints you might wonder about ink costs. Don't. Instead of printing for months before a refill with traditional cartridge printers, EcoTank technology savings of up to 80% on ink supplies means you can print full color for pennies per print instead of dollars and save up to $2,500 with each Eco Tank replacement set compared to cartidges. ET Epson printers cost $100 – $200 more than their cartridge counterparts but you are ahead after a third traditional cartridge replacement you would have had with a cartridge printer.
Fortunately, in non-Photo mode, the ET-8550 meets enough of most folks everyday printer needs to replace their old printer, despite its size…unless you want to autofeed multiple scans and larger load trays, a small price to pay for being one of the best photo printers I have seen.