We may not remember but most of us first drew before we could read, with pencil on paper or colour crayons on restaurant kid's menus. Sadly, we followed other endeavors in our lives leaving drawing and painting to artists.
But there's hope! If you ever wanted to return to your first connection between a brush and your creative self, Adobe's just announced Fresco will soon be out. It's digital off course and works best with touch devices and a stylus. It's not for phones but the more comfortable 9" – 11" tablets, in this case, iPads.
Fresco is in Beta currently by invitation after you apply for it with availability later this year, likely in October. It will first be available for the Mac iOS 12.4 or higher iPad Pro (all models), Pad Air (3rd generation), iPad (5th and 6th generation) and iPad mini (5th generation). The basic app is free but will have yet unannounced price points with more features. Current full Adobe CS "Creative Suite" subscribers will have enhanced access to it and we expect it to be available as a single app CS subscription.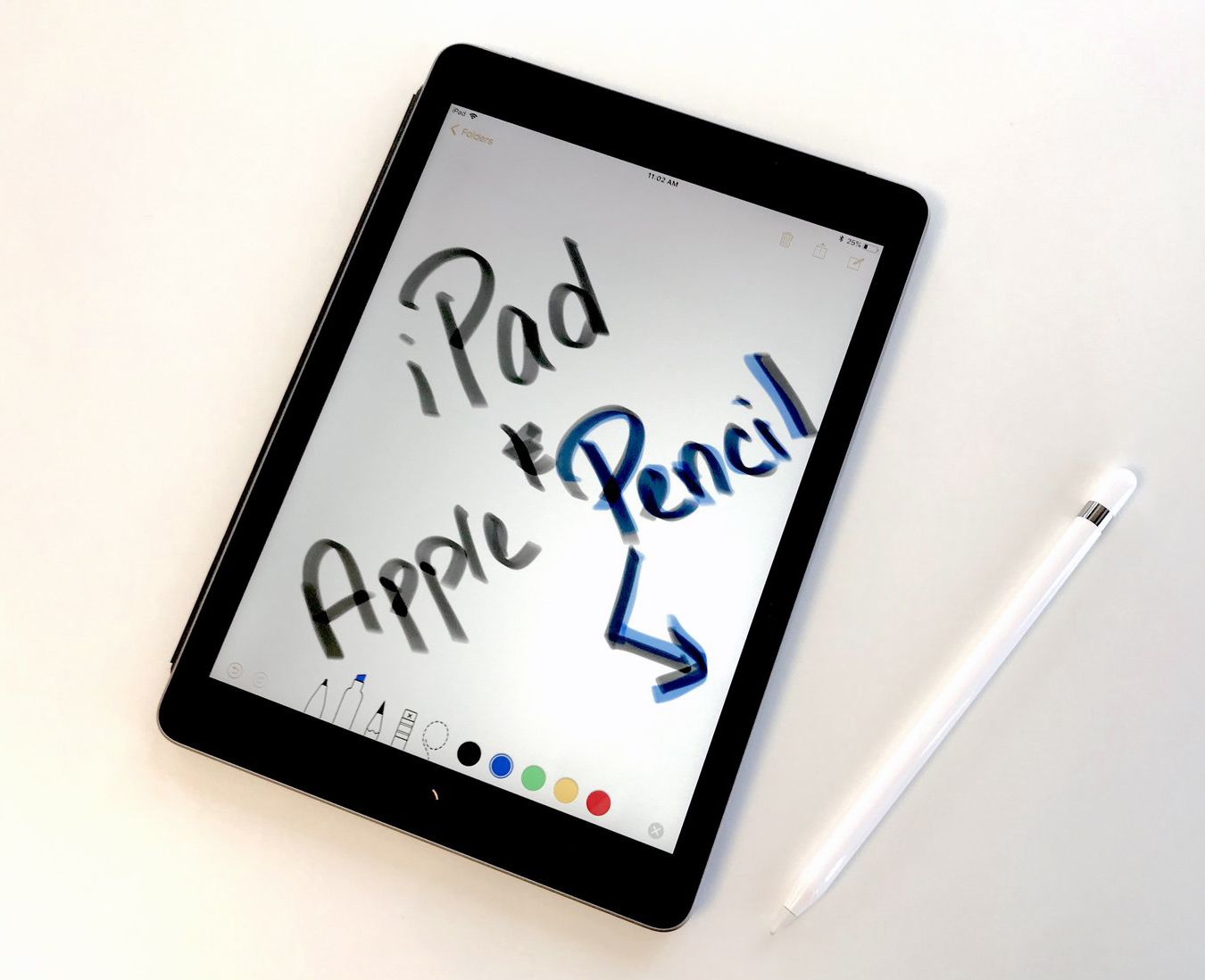 Sadly, the rest of aspiring non-Apple artists will have to wait or look elsewhere. Although designed for touch screens you will also need Apple Pencil or Pencil 2 to emulate drawing tools and much quicker onscreen menu access. If you are a first time stylus user, the first thing you will notice is the lack of friction or the feel of a brush bending on real canvas. But you get used to the pencil's hard tip with impressive pressure and direction nuances of modern styluses, not to mention how well Adobe has designed this app to feel like the real thing.
What is unique about Fresco? Unlike the original 300 year old  fresco paintings where you had minutes to embed colour dyes on fresh plaster before it dried, today's Fresco will let you paint forever. Your digital plaster is always fresh.  As you see from the online samples, Fresco can handle a range of paint styles from rudimentary drawings, right down to detailed masterpieces. That's because, compared to more serious and pricy painting programs, Fresco is not intimidating, with s a minimalist menu devoting most of the screen to your project.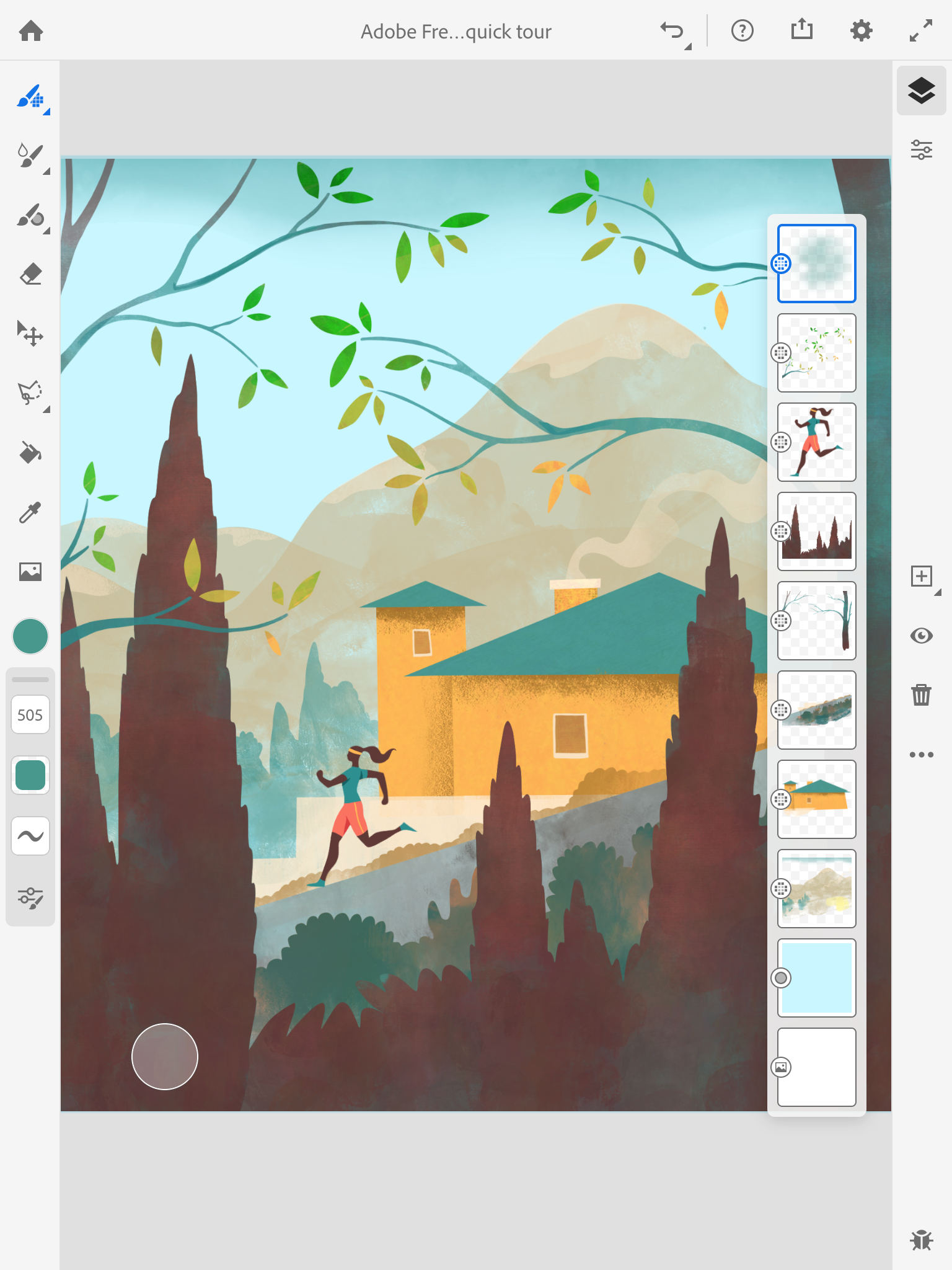 Not much can go wrong in Fresco. It auto saves from the get-go and allows you to quickly access some  pretty incredible brushes and effects, just a few taps away. It's easy to go back and forth between your project and quickly navigate drop-down menus.
Fresco smartly allows you to draw in either pre-defined size Photoshop bitmap brushes or precise vector brushes which have no fixed size – simply drag them to any size you want onscreen. But they have to be on separate Photoshop-like layers.
If you already subscribe the full Adobe CS "Creative Suite" of apps or single apps like Photoshop, you can share resources like filters. But Fresco is about experimenting. Like Photoshop, a project can be divided by overlapping layers, each with parts of your project, independently editable with transparency controls. You could have a layer for trees and a separate layer for people or other objects.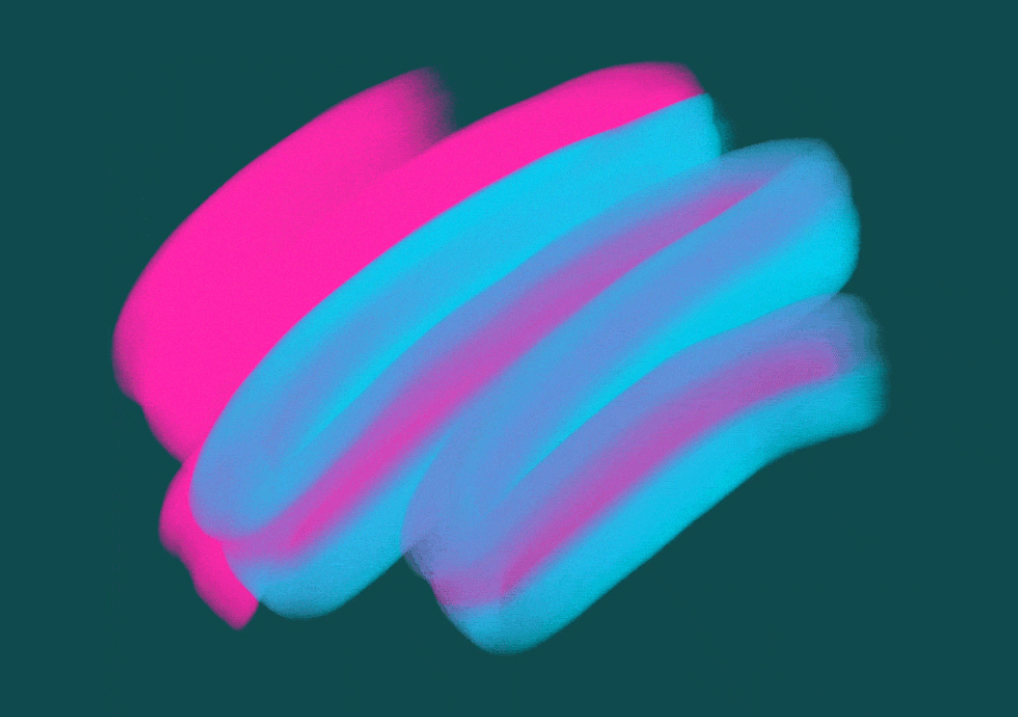 One cool thing about layers is being able to create extra layers and experiment with paint effects without ruining the entire project. I call it low anxiety painting.
What stands out is the realism of how colours mix. "Drop" different dabs of colour onscreen, run your digital brush through them and watch the eye candy magic! Adobe's Sensei AI engine works overtime in Fresco especially when rendering with immersive, as Adobe calls them, live brushes.  Early testers report a faster battery drain on their iPads on long Fresco projects.
Fresco's brush engine is compatible with Photoshop's, for standard brush importing. For example, although you currently can't adjust colour jitter in Fresco, you can import a brush that uses it and it will  work on its existing jitter settings.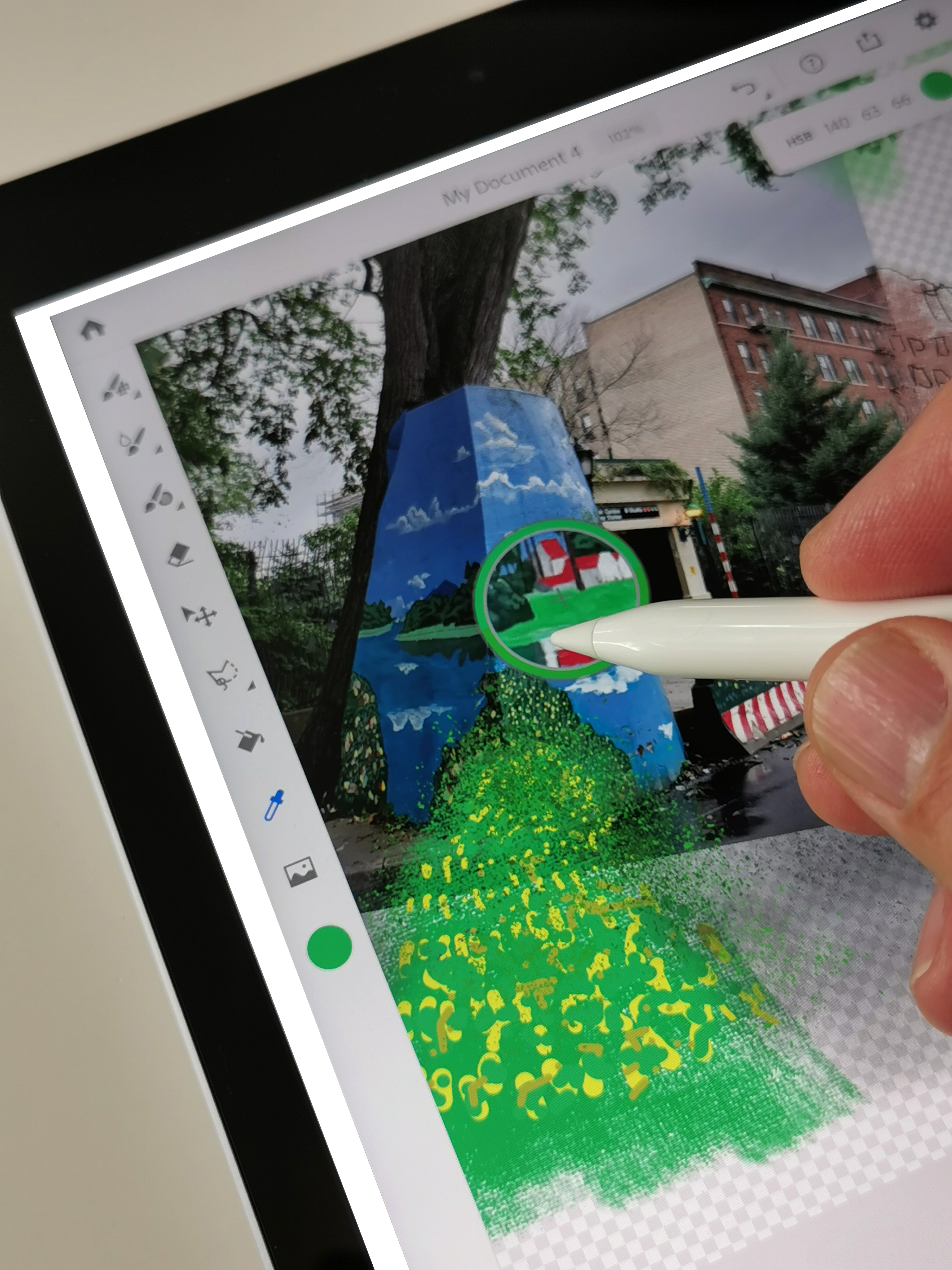 It's good to see Adobe pay more attention to mobile apps with more features, unlike the current scattering of smaller mobile apps each with specific capabilities. I frequent between Adobe Fix, Mix and Express for my smartphone photo editing. Cant' complain, as mobile phones have too small real estate space for too many functions anyway. But designing more sophisticated apps like the upcoming Photoshop for iPad Pro is welcome. I expect to see more features added to the first Fresco release.
Off course Fresco is not a stand-alone app. It syncs  with your Creative Cloud workflow across desktop versions of Photoshop, Illustrator and more.
Fresco brings a high degree or realism to digital watercolor and oil painting. Remember the days of only  adjusting hardness and opacity among a few other adjustments when painting in Photoshop? We have come a long way to now experiencing watercolor or oil brushes realistically blend with previously applied paint.
Using more powerful iPads with the Apple Pencil, Fresco pushes Adobe's powerful Sensei AI to replicate the physics of watercolors and oil paints interact with paper and each other. Adobe calls them Live Brushes and they simply amaze me every time I use them.
A key advantage of the complicated and often unexpected results of painting with different media, digital painting is totally forgiving and non-destructive.
The features are many. Layers, shortcuts, masking and selections are here too. Or choose a simplified view that reduces toolbar clutter with just the active tool and visible layers.
Fresco works in tandem with Photoshop on the desktop, so you can move back and forth between the two. Export to PDF to edit in Illustrator, or use Adobe Capture to turn things you see into assets like brushes. This makes a tablet a valuable asset to the workflow.
I expect Adobe to make Fresco available to the Microsoft Surface, Wacom Mobile Studio Pro and who knows, even the Samsung Galaxy Note which sports the S Pen, a stylus on steroids.
The future looks bright for porting more powerful apps on mobile devices for folks who want to take their creativity on the go. I applaud Adobe but get impatient with long marketing leads.
Fresco doesn't have official pricing or availability,  beyond the basic free version. But it will likely follow the model of $10 per month and inclusion with a full Creative Cloud subscription.
Checkout Adobe's blog
Warning
: include(/index.php): failed to open stream: No such file or directory in
/home/techuntangled/public_html/wp-content/plugins/social-share-button/includes/class-shortcodes.php
on line
41
Warning
: include(/index.php): failed to open stream: No such file or directory in
/home/techuntangled/public_html/wp-content/plugins/social-share-button/includes/class-shortcodes.php
on line
41
Warning
: include(): Failed opening '/index.php' for inclusion (include_path='.:/usr/lib/php:/usr/local/lib/php') in
/home/techuntangled/public_html/wp-content/plugins/social-share-button/includes/class-shortcodes.php
on line
41