Its not often I get to push technology limits, but my last 360 virtual reality shoot at West Edmonton Mall proved to be challenging.
When Samsung sent me their newest 4K Gear 360 (2017 edition) action spherical cam, I knew I had to outdo my previous experience with the original Samsung Gear 360  at Whistlers's #Zipride.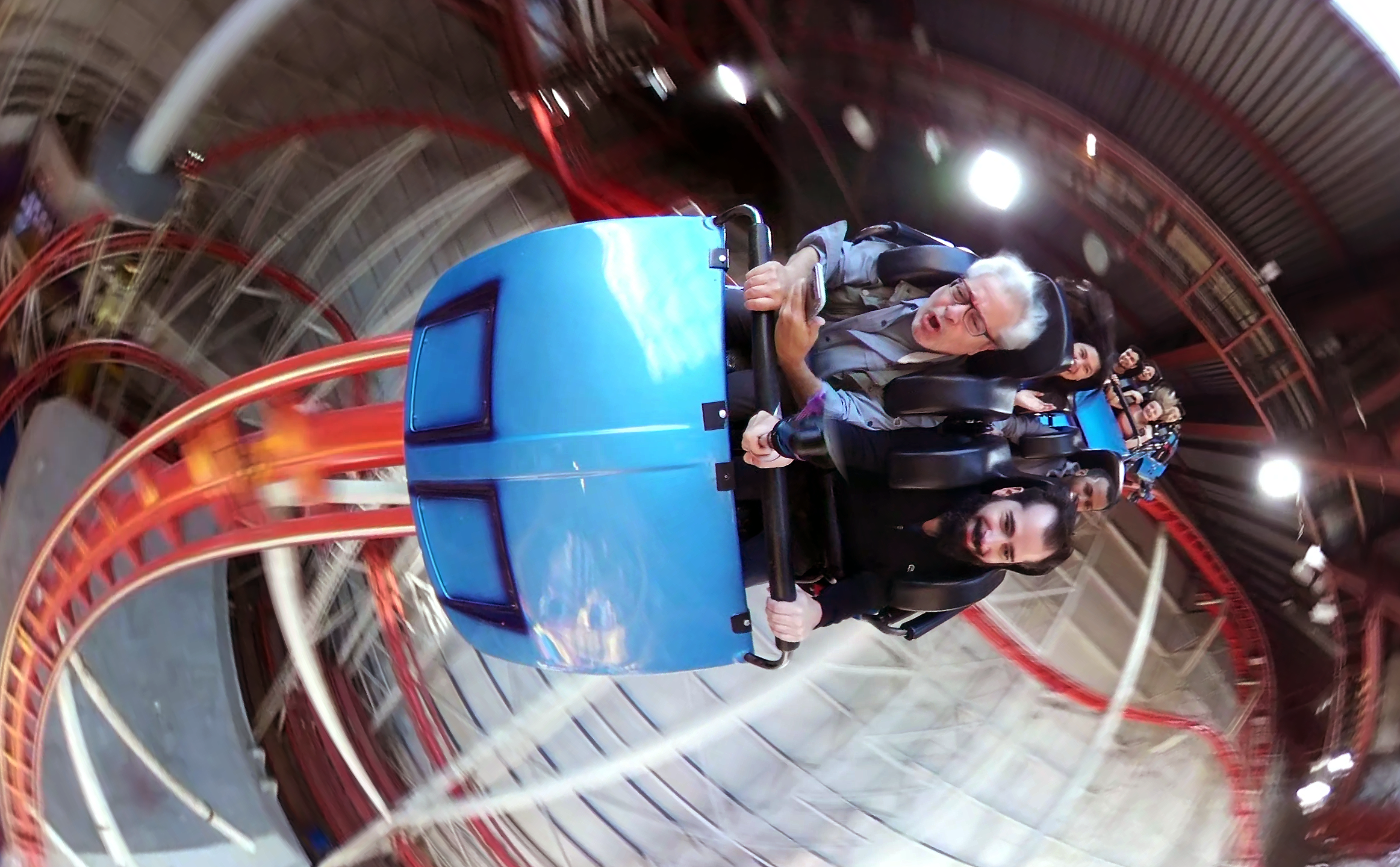 ABOUT THE MINDBENDER
My video subject? The infamous Mindbender, still the world's largest triple-loop indoor roller coaster in West Edmonton Mall's Galaxyland zone.
Launched in the spring of 1986, the Mindbender had an accident several months later derailing the last car and plunging three occupants to their deaths and critically injuring a fourth rider.
The Mindbender relaunched one year later with redesigned cars and more restraints. Since then, on August 4, 2016, it completed the one million ride milestone, with no incidents, the equivalent of travelling 32 times around the world.
But the original steel-built ride remains the same with  many twisting drops, three vertical loops and a double upward helix finale.
After numerous consultations with WEM, and meeting safety criteria and final onsite inspection before my after-hours three rides, I mounted the Gear 360 on a single Novoflex walking monopod with a small but extra sturdy Oben BD-0 tripod ballhead. A hastily taped extra rubber cushion at the bottom tip of the monopod to hopefully reduce vibrations.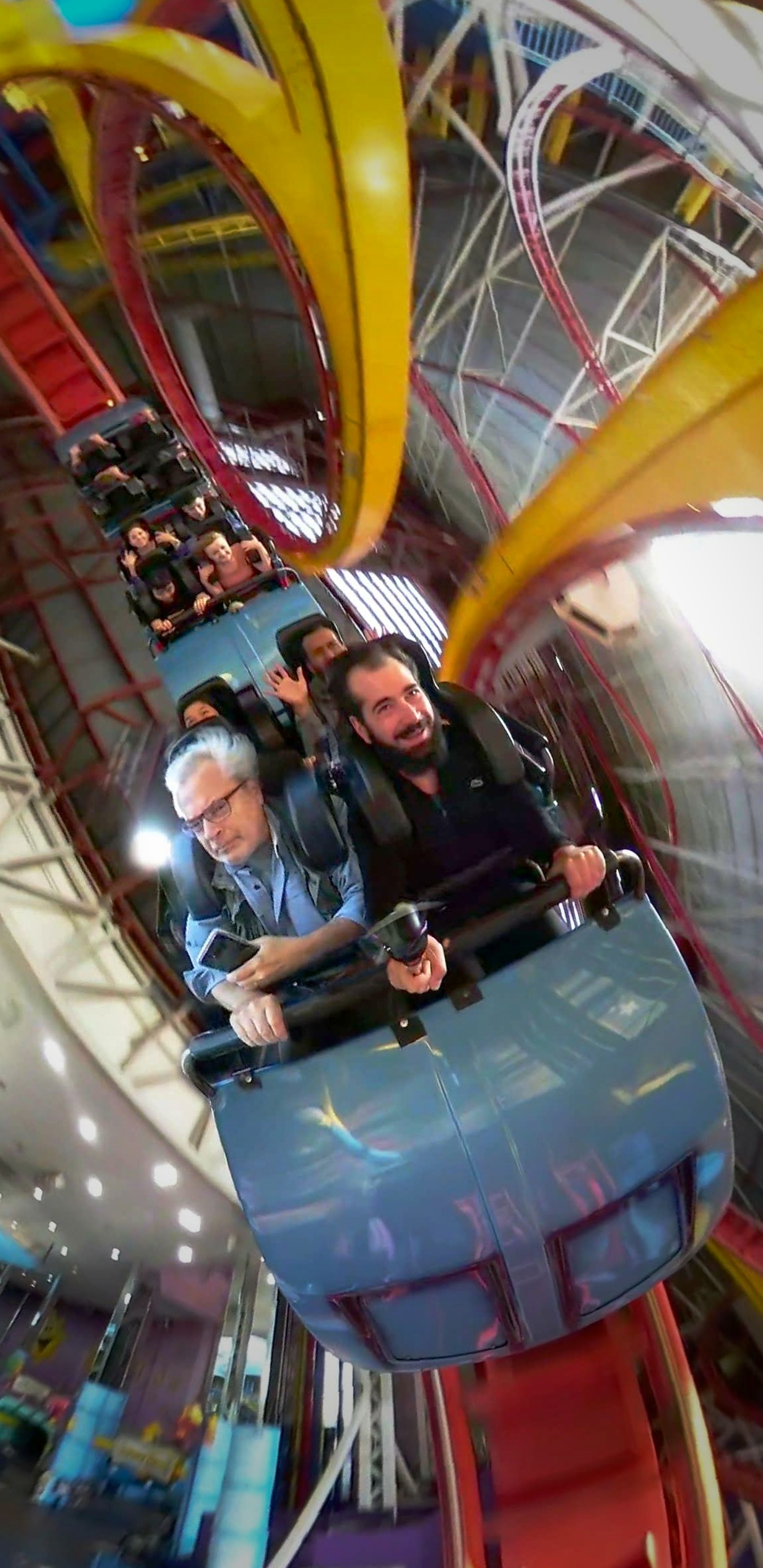 The WEM crew duck taped and zip tied the rod on the padded handlebars.
The rides vary in speed, ours completing it in 1:06, close to the speed limit, which meant increased  forces on the upper body, especially your head, throwing it against the headset at every twist and turn. During the ride, I glanced at the live playback on my Samsung Note 5 – needless to say, not paying attention to our ride route. I got some serious headbanging going. Anything for the shot, right?
The Gear 360 was subjected to consecutive positive gravitational pressure of 4.11 g on the first drop, 4.46 g on loops 1 & 2, 4.01 g on the third drop, a bone crunching  5.55 g on the smaller third loop and 3.87 g on the upward double helix. Speeds were as fast as 95 km/h with sudden changes in direction.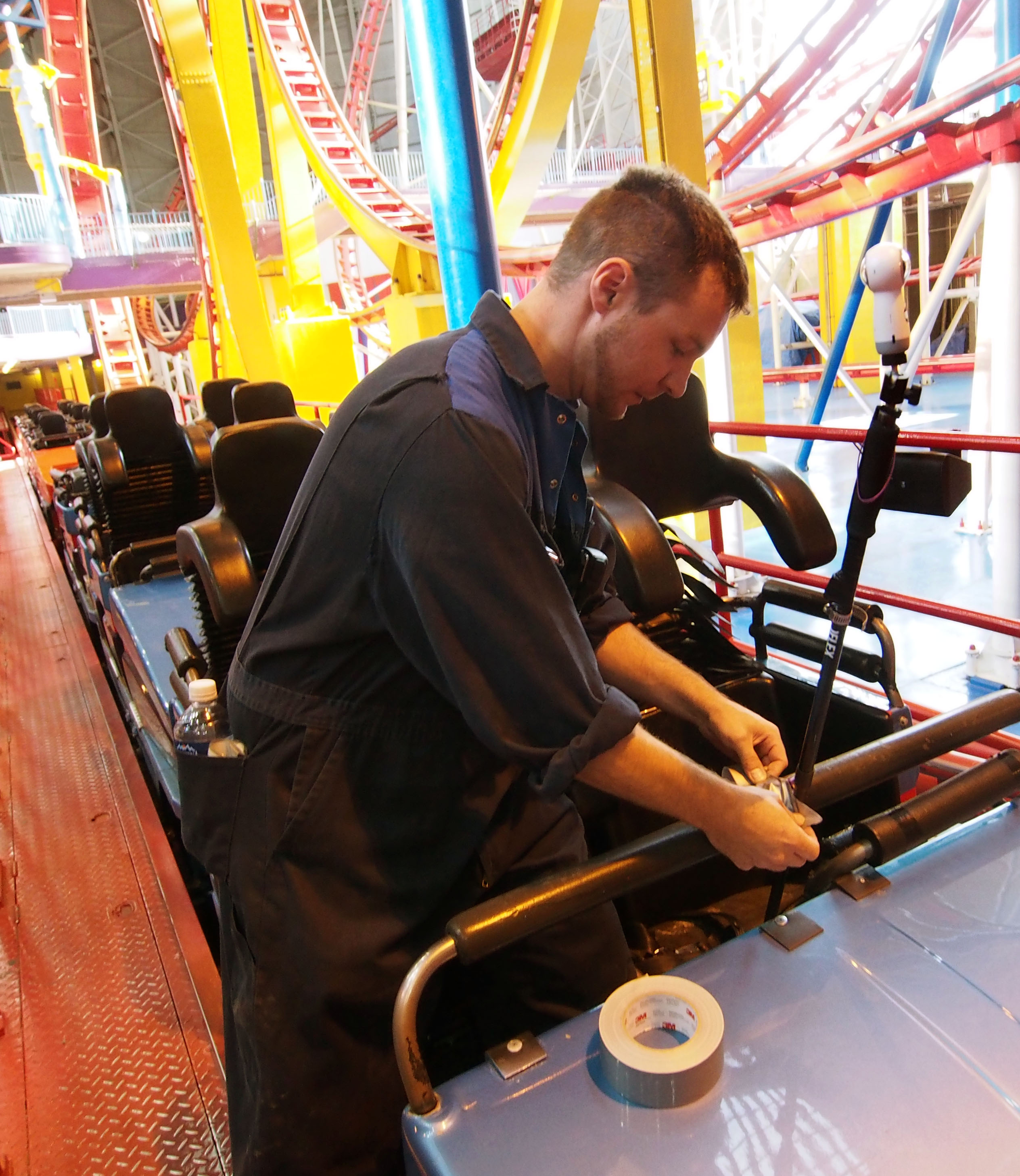 And then there was the direct vibration up the pole. My co-rider son, John, would pull back on the rod to minimise vibrations.
Everything worked great, as you can see in the stills and YouTube vids. Unlike most videos, there are more motion effects on the frame edges, due to the super fast rate of changing scenes on the ride in such close proximity. But the centre was dead on.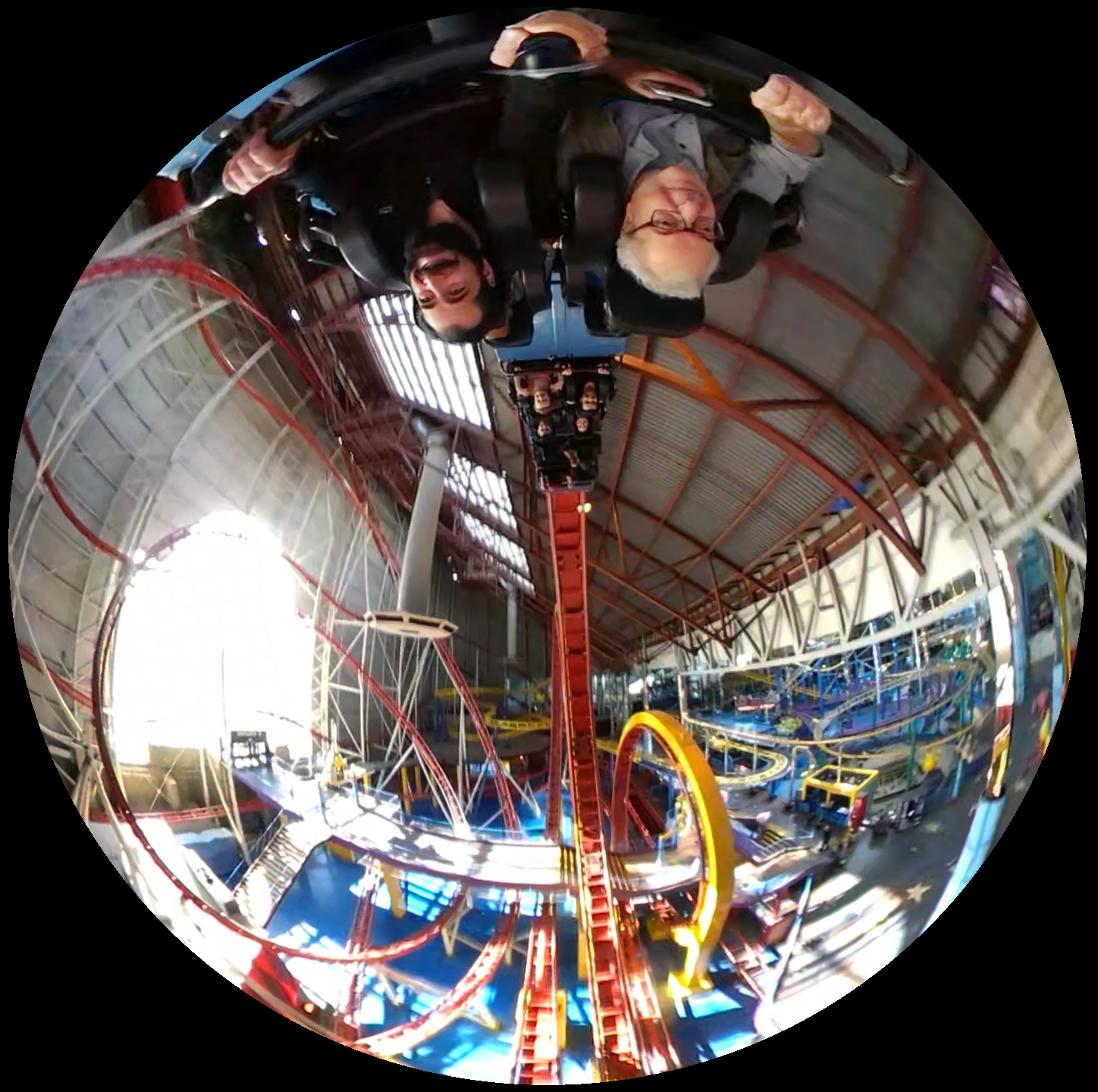 SHOOTING SETTINGS
I set two frame size and rates – 4K 4096×2068 24 frames per second for maximum quality and 2560 x 1280 60 fps for smoother playback in slow mo. I chose the lowest 400 ISO for quality and turned on the wind filter.
The next Gear 360 setting is important. It lets you choose the default record view angle with either the rear or front lens. By choosing one of these, your 360 VR vid starts at one of these views so viewers get the same default perspective when watching it on YouTube – instead of searching around for the right view. Every other setting was at default.
PLAYBACK
I must confess, I am not a fan of VR viewing on VR headsets or phones on YouTube or Facebook. The default view is way to narrow for my taste as a photojournalist, with inferior quality showing pixels on VR headsets. When you look at my Mindbender ride, on 360 VR MODE, you barely see past John and me, but one positive note is minimum visual distortion.
https://www.youtube.com/watch?v=OoTM2ya-NQc&t=27s
I prefer a wider view, the way you can see these files play on the Samsung phone itself. You can swipe your your fingers to zoom in and out as well as swing to different viewpoints. Sadly the mixed reviews of the free Windows Desktop Gear 360 ActionDirector app does not offer all the cool phone VR playback views like Round View, Stretched View and Dual View available on the Samsung phone playback.
I devised a method to pre-package VR videos by doing all the swinging around and zooming for viewers. Essentially, I take a VR movie and convert it into 2D, keeping breathtaking views in one frame instead of the viewer scrambling around, swinging their phone around for different views. The video quality is much better as you are essentially viewing a full frame with lots of sharpness.
Here's how I do it:
I use the free AZ Screen Recorder for Android to record the playback of the VR video. Using either my S Pen or my finger on the touchscreen to swing around different views, I basically do all the traditional phone swinging for you showing the best views of the video.  The audio is recorded from the phone's speakers, so use a quiet room. The maximum quality is 2560 x 1440 with six settings from 60 FPS to 24 FPS frame rates. I can trim the first recording and post. It takes some practice to zoom and turn views smoothly, but the end result is a super wide, beyond GoPro, of personal action VR shooting.
Optionally, I can take the best snippets of these screen recordings and use the most excellent mobile Adobe Clip to combine clips for more polished products.
Compare these two videos of the same scene.
Normal 360 VR for VR headsets or active phone screen views:  Tilt phone up and down and sideways or use your touch screen. VR headset users simply move their heads to see different views.
Same converted 2D video with built different views during file creation and screen capturing the whole event: Do nothing! Just take in the views. I recorded the different views for you.
Check both out.
ABOUT THE GEAR 360 (2017 edition) $349.99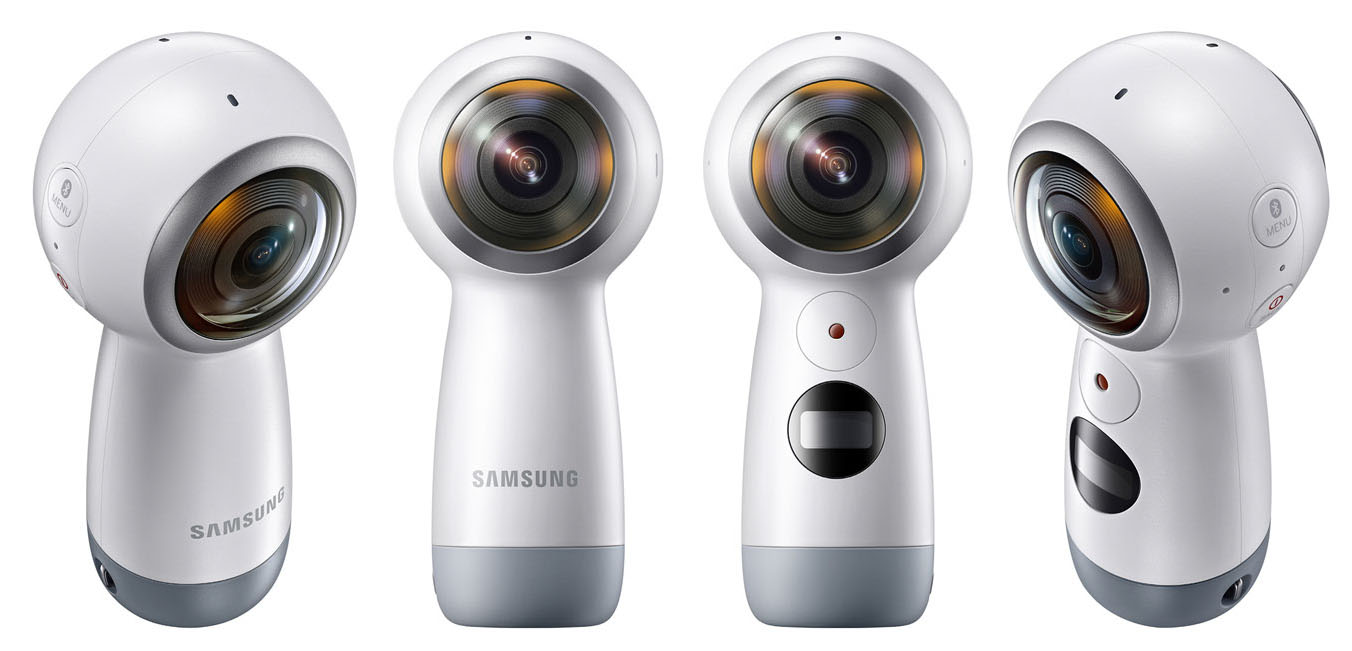 Smaller, lighter, faster and sharper than last year's first namesake model, the Gear 360 is Samsung at its best.
For newbies, it is a spherical  action cam with two 180 degree lenses to cover the entire area around it. You can shoot stills or record with either lens (front and rear) or choose either lens for super wide photos.
It records up to  true 4K images with clarity and sharpness over the entire screen.  It is the most seemless camera in its price categoy – even doing a better job than last year's model of erasing itself from the photo. Here's what it all does:
In 360-degree video shot in stunning 4K UHD. Its IP53 rating lets you shoot worry-free in not-so-friendly conditions. Wi-Fi lets you easily share images and even broadcast live on social media with your compatible phone.
More Information
Records video in 4K UHD resolution (4096 x 2048) at 24fps and captures 15MP still images
Each wide-angle lens features an f/2.2 aperture, for capturing in low light starting with ISO 400.
The handy very well thought out PMOLED display lets you easily navigate menus and settings away from phones.
Bluetooth for connecting the to your compatible mobile device
Wi-Fi lets for transferring files to your compatible smartphone or PC for  sharing. Best in its class for viewing your recordings live from your Samsung phone.
Live broadcast on social media in real-time with your compatible Galaxy smartphone
Ruggedly built with an IP53 rating means it's dust- and splash-resistant, so it can stand up to a little bad weather
Supports a micro SD card up to 256GB (sold separately)
Watch your 360-degree videos with your compatible Samsung mobile device and Gear VR headset (sold separately) for a fully immersive experience, better than a fly on the wall!
Compatible with the Samsung Galaxy S8 and Galaxy S8+; Galaxy S7 and Galaxy S7 edge; Galaxy S6, Galaxy S6 edge, and Galaxy S6 edge+; Galaxy Note 5; Galaxy A5 (2017); and devices with Android 5.0 or iOS 10.1 and higher
Each wide-angle lens features an f/2.2 aperture, allowing you to capture brilliant, vivid images even in low light
An excellent menu design for managing photos and videos from you smart phone.