Hi folks, here we go again. The annual International Consumer Electronic Technology Show in Las Vegas  is upon us once again next week in Las Vegas. Like many of us tech writers, I go early, arriving Sunday morning, landing with my feet running to the afternoon CES Unveiled event at the Mandalay Bay.
What can we expect? New wearables, tablets, palm-size drones, TVs and more. I will be reporting on what I see, lot's of it, so keep in touch!
FIRST IMPRESSIONS ON THE SAMSUNG GALAXY NOTE EDGE
I am CES-bound, armed with new "cutting edge" technology from Samsung Canada who seeded me with the yet-to-be launched in Canada, Galaxy Note Edge.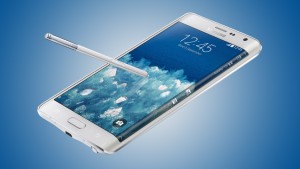 The phone, with all the features of the current Note 4 with S Pen stylus is more that evolutionary, featuring a curved screen edge with a dedicated vertical panel along the right side of the main screen.
You can read the armed-to-the-teeth specs on this gorgeous phablet at EDGE but this newly designed Samsung interface running on Android 4.4 Kitkat, must be seen, held and used to be fully appreciated.
The Edge is slightly wider and shorter than the current Note 4 with with a removable slightly smaller battery and access to a micro-SD slot for up to 128 GB cards.
The side panel ( it also works for lefties with a few clicks and holding the phone upside-down)  appears and disappears with helpful information like favourite apps. You can run up to 10 panels from about 20 free downloadable themes and functions like games, streaming one line news sites, favourite contacts and more.
Click on those and you get to the original Web site.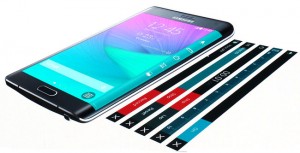 There is a slight overlap between the right vertical main screen edge and the Edge panel. When it disappears the main screen becomes slightly wider and part of it starts curving slightly. Unnoticeable  after you use it for a few hours.
I like the dedicated function menu options on the side panel when running camera, calendar and S Note apps. You can even design or use your own photos to show on the panel while in locked mode…even with some handwriting messages.
Samsung smartly thought out this panel function through with many surprises including a night mode which kicks in when the screen times out. The Edge becomes a horizontal dim night table screen showing weather, time and alarm, viewable when the phone is on its back…right next to your pillow. Nice!
The Edge is immaculately made with attention to detailed curves and a clean metal edge carefully countered around the curved screen, just enough to protect the pricey piece of glass from flat surface falls.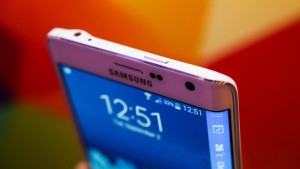 Samsung's dedicated folio case turns the main screen off, when closed, leaving the side viewable curve panel on, which changes modes by a finger swoosh across its narrow screen.
As for looks, the Edge is a winner and a showpiece for Samsung. Most folks can't get their heads around a perfectly curved ultra sharp colour screen. Currently available in the US, for $945 USD or $500 with a two year plan, it is not for the average consumer's wallet.
But it is what it is, showstopping technology in Canadian stores and cellcos this quarter, from the Korean tech giant who unquestionably walks the walk on glass making.
"From an innovation and revolutionary perspective for a mobile device we hit the nail on the head," said Samsung Canada's Steven Cull.  "When your'e looking at the cost justification from a Samsung perspective, its delivering that fast multitasking device in the market."
Indeed it does.
SHOULD YOU GET IT?
If money is no problem, yes! This is a version 1.0 that works right off the bat.  When matched with the also curved head-turning Gear S smart watch (with its own sim card for anywhere "mother-ship" phone and data synchronization) the Edge is the next step in smartphone innovation.
If your'e not a tech enthusiast, I would wait. You can certainly ne functional without it. After showing the Edge to several Canadian cellco stores, I got the same reaction from store managers:  Samsung should put curved screens in more of its next gen affordable phones if they want to aggressively keep their market share.
Are you listening Samsung?
ONE MORE THOUGHT ON THE GEAR S
Speaking of next generation,  Samsung's market leading tech Gear S is so close to becoming its own stand-alone hotspot, phone and smartphone on a wrist.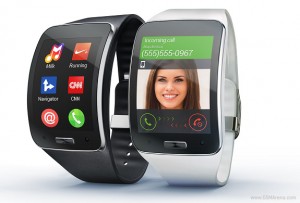 When will you cut the digital cord on your next Gear S Samsung? Who needs a hand-held phone when you can wear it on your wrist and take along a tablet instead?
Tune in to my Edmonton Global TV Sunday Morning NewsTech Talk segment where I will be showing the Edge and talk about more CES.
Www.globalews.ca/techuntangled