The biggest surprise at today's Redmond Windows 10 event was not Windows 10. Nor that one of Microsoft's cash cows would be free for Windows 8.1, Windows 7 and Windows Phone 8.1 users for one year after release.
It was Microsoft's best kept virtual reality secret, under wraps for the past few years, one floor from the Redmond Campus visitors centre. More on that later. Let's talk about what those 1.5 billion Windows users on real Earth have been waiting for.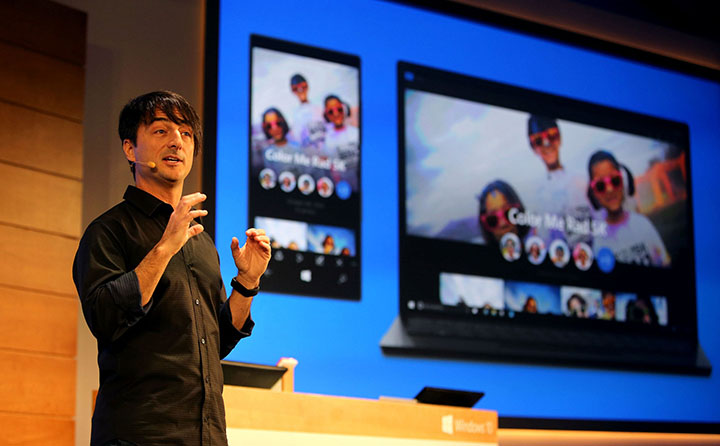 WINDOWS 10
Windows 10, out in public test mode since last fall, showed in more mature form today with features designed and thought out, sure to please disgruntled Windows 7 users, missing their Start Menu features.
Here are the Windows 10 highlights:
Windows 10 will run in Laptops, Hybrid Laptops (removable or folded-under keyboards) and in a special version, under 8-inch tablets, phablets and smartphones. All the same OS said Microsoft.
The traditional Windows 7 Start Menu is back with a smart combo of preferred larger icons. All is good.
All new apps in the Windows 10 store will run on all the above devices properly displayed with almost equal functionality, like Office which will be included in the special smaller device OS version.
The impressive Siri-like Cortana comes to Windows 10 PC and Tablet. It even knows if you ask for a type of file for an online event that might have a Power Point file. This personal digital assistant proved very effective at the live demo.
Windows 10 users will be able to share files between devices with the centrally located online OneDrive, cutting back on duplicate files as users wish. Nice.
Windows 10 will come with a totally "from the ground up" browser code-named "Project Spartan," with a unique ability to freeze a fully linked web site and annotate it with mouse, finger or pen and share. It will also read PDF documents and feature distraction-free reading mode. IE will still be included for legacy users.
Xbox on Windows 10 will let you play your Xbox games streaming on your Windows 10 device, play multi-player with others devices as well as keeping up with your Xbox social status. You can even turn off your Xbox console after you're done, from your Windows 10 PC. The new DirectX12 will show more graphics and consume half the battery power on portable Windows 10 devices.
The new Microsoft Surface Hub, a dedicated large Quad HDTV touch screen with sensors will facilitate meetings and Windows 10 experiences for groups using Skype for Business and Office 365 making everyone onscreen from remote locations feel they are in the same collaborative room environment.
MY TAKE:
All is well with Windows 10  and will spur more innovative device launches, but why couldn't Microsoft get it right the first time in Windows 8? My biggest beef is why bother having a "Tablet" mode at all with simplified touch screen apps duplicating desktop apps. Users will still be able to launch an enhanced tablet mode when they still want the desktop mode. Microsoft had hoped to sway users into a "Tablet" experience akin to the much better feature app supported Android and iPad experience. Not the same, not the same.
At least Windows 10 has minimized the enhanced presence in desktop PCs. But Apple has unquestionably proven that separately designed iOS iPads and iPhones can co-exist with Mac OS laptops and desktops, even Windows desktops running iTunes.
Will Microsoft attract more consumers in this new homogeneous Windows 10 family? Windows Phones have a long way to go to make a sustantial sales dent against Apple and Android. The software giant didn't have to look far today for the competition. The Windows 10 launch event room had an embarrassingly disproportionate number of reporters Apple iPhones and Macbooks lighting the room up.
MISCOROFT GOES VR and AR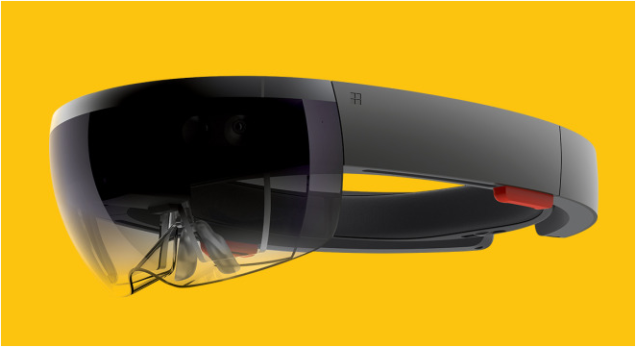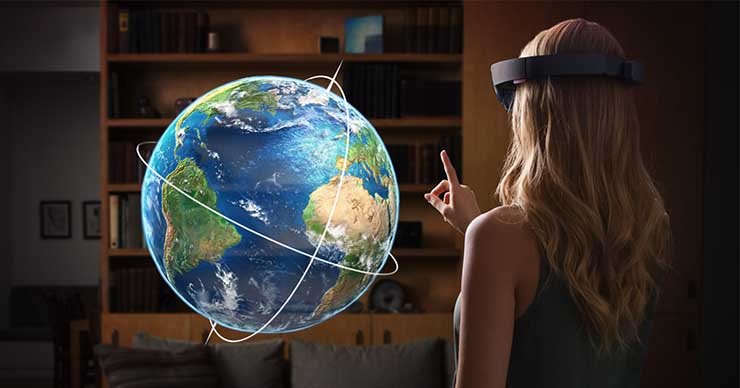 Microsoft announced and demonstrated its holographic computer platform consisting of an end-user untethered HoloLens headgear device and an invitation for developers to dive into the Windows 10 world to develop 3D programing experiences for consumers and business.
Kudos to Microsoft for jumping in the virtual reality arena with a ready for prime time hardware device and a well thought-out Windows 10 operating OS and developers platform. When worn, the headset, armed with sensours and multiple processors, overlays objects in 3D with the room you are in as a real background.
Live examples showed users wearing a HoloLens being able to step around in 3D amid a scene captured live by the Mars Probe and how scientists could interact with the probe as if they were actually there. Another example showed the building of a simple helicopter drone, in today's same event room using the headset, grabbing parts in thin air, assembling, painting and finally printing in 3D for all attendants to see for real.
MY TAKE
It's not real holography, but Microsoft's clever word use of the illusively real thing, claiming it gives a holographic-like experience. It actually looks good onscreen blending 3D animated objects convincingly in a real analog room. It seems like a well thought out Virtual and Augmented Reality system ready for adoption in a still popular operating system. It joins Google Glass,  Oculus Rift and Epson's Moverio  smart glasses but as a newcomer it seems to be just as capable handling gaming and enterprise needs as any other existing multi-generation VR/AR system. Microsoft did its homework.
Still, I can't see most folks wearing headgear of any sort for recreational or work reasons.
Check out the Windows 10 blog and for a replay of today's Windows 10 event check here.
If you feel a little techie and have a spare PC or laptop, you can dive deeper into Windows 10 ongoing trial program or follow up on latest news on builds  http://preview.windows.com
Follow Steve on his Edmonton Global TV Sunday Morning News Tech Talk