Following the announcement two weeks ago of the new LG G7 ThinQ May 2 launch in New York, LG is starting to share hints on its newly designed phone. It will feature artificial intelligence, ThinQ, to make it easier to use the phone as well as communicate with other LG products, like appliances and TV's.
One specific feature is the much-improved screen viewing in bright, sunny days – the equivalent of 1,000 nits (that's real bright in TV screen lingo) using LG's latest Super Bright Display technology. An early pre-release phone (under embargo, except for the features in this story) I saw this week, showed natural colours, even in bright outdoor lighting.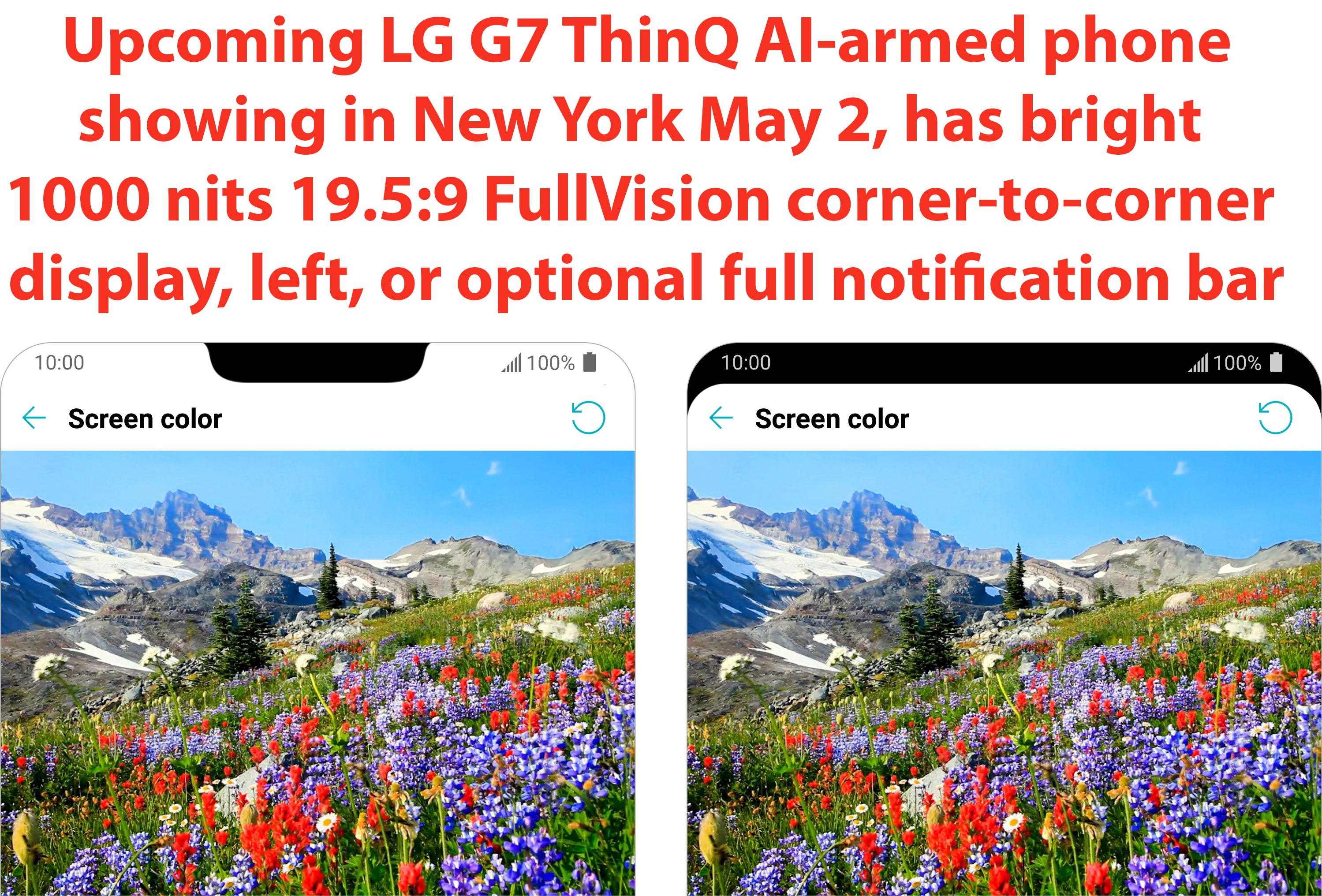 The 6.1-inch QHD+ (3120 x 1440 resolution) FullVision display covers 100 percent of DCI-P3 colour space. This means that when the LG G7 ThinQ automatically adapts to six colour settings – Auto, Eco, Cinema, Sports, Game and Expert, you see natural looking colours. Auto mode automatically analyzes and identifies the content as video, photo, game or website and optimizes the display setting for best viewing. For power users the LG G7 ThinQ will have a camera user scroll wheel interface to give users the ability to fine-tune colours for each RGB setting.
LG claims that the new phone's battery consumption is reduced by as much as 30 per cent compared to its predecessor, nice.
The seventh generation G6 ThinQ, as LG notes, is extremely easy to use and comfortable to hold in one hand thanks to the ergonomic and curved tempered glass. The 18:9 FullVision display first announced last year has been improved for the LG G7 ThinQ with a slimmer ratio of 19.5:9. The LG's new FullVision display is complemented by a nearly 50 percent slimmer bottom bezel compared to the LG G6.
One more thing!
The corner-to-corner bezel-less design of the FullVision display mode looks similar to the iPhone X black notch. But a new Second Screen variable display creates additional room at the top of the screen with a black bar for notifications without taking up prime screen real estate. The New Second Screen can be de-activated for a more traditional look or set to display different colours for a totally unique user experience.
Stay tuned for hopefully more G7 ThinQ tid-bits to come.